Whether you're cutting your climbing teeth outside or in the gym, the last thing you want to spend your time worrying about is your shoes. That's why we've taken the time to write this article: Not only does it give beginners a plethora of excellent climbing shoe options, but it answers some very important questions that you may have. From sizing, materials, price considerations, and transitioning into more advanced models, our buying advice and comparison table cover everything you need to know to get shoes on your feet and get you on the wall. Below are the best beginner climbing shoes of 2022. If you're ready to take the next step, check out our article on the best overall climbing shoes.
 
---
Our Team's Beginner Climbing Shoe Picks
---
Best Overall Beginner Climbing Shoe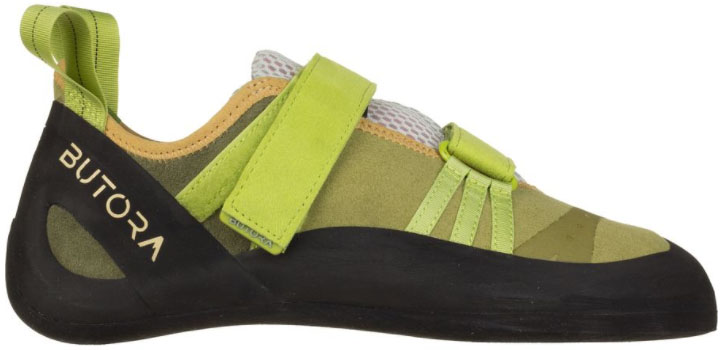 Upper: Leather/synthetic
Closure: Velcro
Ability level: Beginner to intermediate
What we like: A great price for a well-designed and well-built shoe.
What we don't: Moderate downturn means this shoe won't excel on vertical or overhanging terrain.
Butora entered the climbing shoe world only a few years ago, but the company already is well-known for their innovative designs and premium builds. The Endeavor is Butora's top entry-level model, and with noticeable attention to detail, a high level of comfort, and a relatively low price tag, it has secured its place as our favorite beginner model. Further, it's made on a slightly downturned last, meaning the shoe is a bit more performance-oriented than others on the list, which is a good thing if you plan on progressing in your climbing. 
If you have a hard time finding shoes that fit, the Endeavor is an especially versatile option. Both the men's and women's versions come in two widths (wide and narrow), and the Velcro straps have multiple adjustment points to snug up to a variety of foot sizes, even as the shoe stretches. And for those just starting out, we love the comfort-focused build, which includes an odor-minimizing hemp liner (great for gym climbing) and soft, memory foam tongue. Quick learners or crack climbers might want to look elsewhere (lace-ups are more appropriate when you're jamming your feet in cracks), but the Endeavor nevertheless strikes an excellent balance for those who prioritize price, performance, and comfort.
See the Men's Butora Endeavor  See the Women's Butora Endeavor
Best Budget Climbing Shoe for Beginners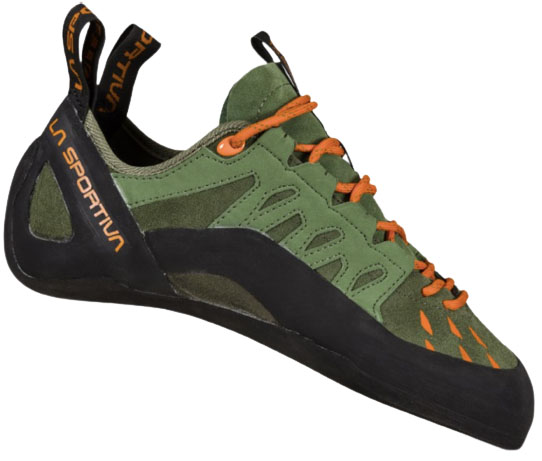 Upper: Leather
Closure: Lace
Ability level: Beginner
What we like: Comfort-oriented, durable, and very affordable.
What we don't: Roomy fit lacks precision; FriXion rubber isn't particularly sticky.
When shopping for your first shoe, most beginner climbers will want to prioritize factors like affordability, durability, and comfort over outright performance. And for good reason: Proper footwork takes time to learn, and you'll burn through a lot of rubber in the process. If this sounds like you, the Tarantulace puts it together better than most, with a bargain-basement price tag of $85, alongside all the features beginner climbers need. You get 5 millimeters of stiff and durable FriXion rubber, a long-lasting leather upper that will conform to your feet over time, and a roomy toe box that maximizes comfort. Although it's been around forever, the Tarantulace is far from outdated: La Sportiva just gave their beginner model some love, with updated aesthetics and colorways along with small changes in design.
Build-wise, the Tarantulace is closer to an approach shoe than most models on this list, with a thick outsole, fairly symmetrical toe, and flat, wide last. It's a great combination for all-day comfort (think moderate multi-pitch routes or long gym sessions), but not ideal for steep or particularly technical climbing. For quick learners or those primarily interested in bouldering, La Sportiva now makes the Tarantula Boulder ($109), which features a softer build and higher performance toe and heel for better hooking capabilities. But if you're a new climber looking for a comfortable, no-frills shoe, it's hard to beat the Tarantulace's $89 price point. In addition to the $109 Tarantula Boulder, the shoe is also available in a simpler velcro version (the Tarantula) for $99, which offers the same feel as the lace-up model here.
See the Men's La Sportiva Tarantulace  See the Women's La Sportiva Tarantulace
Best Beginner Shoe for Trad Climbing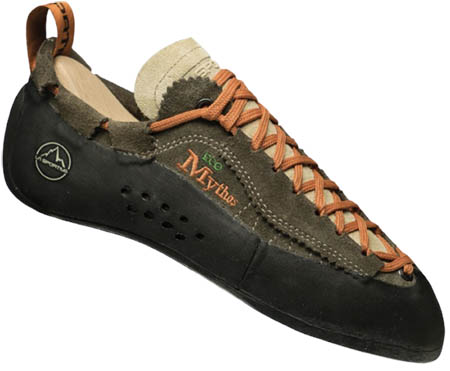 Upper: Leather
Closure: Lace
Ability level: Beginner to intermediate 
What we like: Durable and incredibly well-made.
What we don't: Pricey; not good for steep bouldering or face climbing.
It shouldn't come as a surprise that the La Sportiva Mythos Eco makes an appearance near the top of this list. Many beginner-oriented climbing shoes are very apparently built with novices in mind, and all too often this means reduced craftsmanship and lower-quality materials to increase the bottom line. The Mythos, however, prioritizes quality. At the time of its release, it was a top shoe for trad climbers, and since then, it has become a dependable shoe for those new to the sport. And it doesn't hurt that the Mythos Eco's high-quality build is now constructed with 95%-recycled materials.
The Mythos' success as a beginner shoe stems from its versatility on different kinds of terrain. As a climbing novice, you likely don't know yet whether you prefer cracks or face, boulders or roped climbing, the gym or real rock. Getting an all-rounder like the Mythos is the best way to hedge your bets and be covered in most scenarios. Whereas many beginner shoes are made with the gym in mind, the Mythos is built to withstand the rigors of outdoor climbing: even after shoving it relentlessly into cracks, the stitching stays strong and the leather remains superbly comfortable and durable. 
See the Men's La Sportiva Mythos Eco  See the Women's La Sportiva Mythos Eco
Best Beginner Shoe for Gym Climbing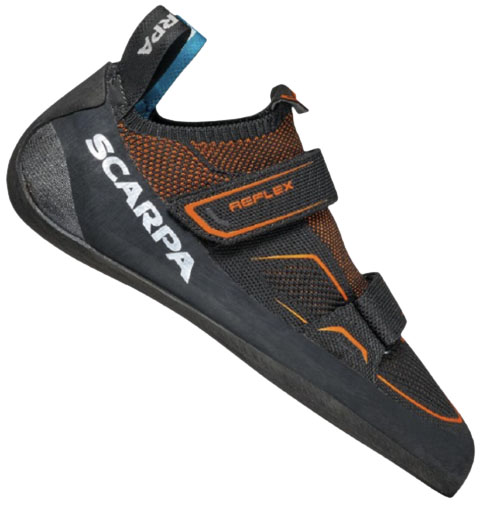 Upper: Synthetic
Closure: Velcro
Ability level: Beginner
What we like: A durable, comfortable, and breathable shoe purpose-built for indoor climbing.
What we don't: Thick sole lacks sensitivity, not great for outdoor use.
If you're among the many climbers who spend most of their time in the gym, it might be worth considering a shoe like the Scarpa Reflex V. Built for the indoor environment, the Reflex V features a breathable knit upper, durable Vision outsole (5mm), and comfortable sock-like fit with flat last. Notably, it's also washable, which is a refreshing antidote to stinky gym shoes. It's true that the Reflex is far from the most precise or powerful shoe here, but it checks all the boxes for most beginner gym climbers, including a reasonable $109 price tag.
But like the Tarantulace above (which shares a similar comfort-first design and durable sole), the Reflex V is decidedly not a high-performance shoe. If you think you might catch on quickly and climb the grades (literally), we'd recommend a tighter-fitting model with stickier rubber, such as the Defy below. Further, you're pigeon-holing yourself with a dedicated indoor model—new climbers exploring their preferences might want to keep their options open with a more versatile design that can move between the crag and the gym (the Reflex's knit upper isn't particularly durable or protective). But for a purpose-built beginner gym model, it doesn't get much better, and we're big fans of the washable design. 
See the Men's Scarpa Reflex V  See the Women's Scarpa Reflex V
Best Beginner Shoe for Bouldering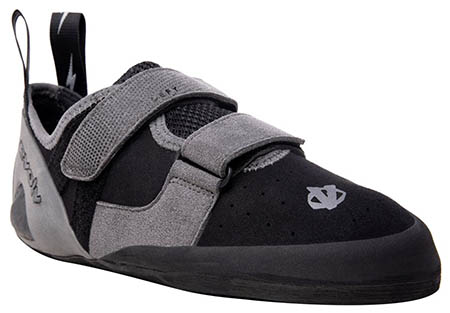 Upper: Synthetic
Closure: Velcro
Ability level: Beginner 
What we like: A durable, time-tested classic that's great for steep climbing.
What we don't: Nothing about this shoe really stands out.
Evolv is the embodiment of "slow and steady wins the race:" while they don't often knock it out of the park, they do quietly and consistently churn out good shoes. If you're looking for contenders at reasonable prices (compared to top models from La Sportiva and Scarpa), Evolv's shoes might be the answer. And the Defy is no exception.
The Defy (and the women's Elektra) is Evolv's all-time best-selling shoe, and you certainly won't be the only climber in the gym sporting it. These kicks are comfortable straight out of the box thanks to their flat profile and no-stretch synthetic upper. But don't let their lack of aggressive downturn fool you: they are also very soft and highly flexible, excelling even on steep terrain. Keep in mind that this build will tax your feet a bit more than stiffer shoes or those with a built-in arch, making it a better option for short sport burns and bouldering than multi-pitch climbing or all-day wear. For a slight step up in build quality, check out La Sportiva's new Tarantula Boulder, a comfortable beginner bouldering shoe with more rubber on the heel and toe for hooking.
See the Men's Evolv Defy  See the Women's Evolv Elektra
Best of the Rest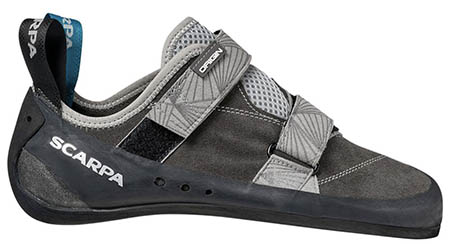 Upper: Leather
Closure: Velcro
Ability level: Beginner to intermediate
What we like: Extremely comfortable and well-thought-out design.
What we don't: Neutral last might hold back more intermediate climbers.
Scarpa's legendary designer Heinz Mariacher, the brains behind uber-high-performing shoes like the Drago, doesn't stop at elite. In an effort to encourage more and more folks to start climbing, Mariacher set out to design the perfect beginner shoe. Enter the Scarpa Origin. Its superior comfort is immediately noticeable, and the padded tongue gives the shoe a pillow-like feel. And while the last is flat, the sole is stiff enough to provide decent support. 
The Origin is essentially Scarpa's answer to the Evolv Defy above, one of the world's best-selling beginner climbing shoes. In fact, we think the Origin is better-designed and made with higher-quality materials, although you do pay for it. But as far as performance goes, the two have very different strong suits: whereas the Defy is great for gym climbing and outdoor bouldering, the Origin's stable sole and cushioned upper make it a better fit for high-mileage and multi-pitch days (the generous 5mm outsole helps). On steep or technical terrain, expect the shoe to feel clunky and imprecise.
See the Men's Scarpa Origin  See the Women's Scarpa Origin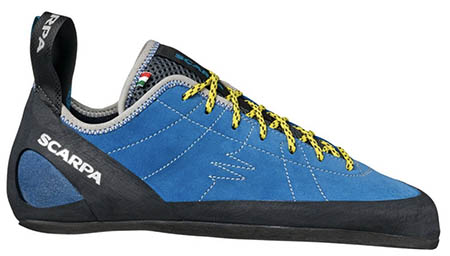 Upper: Leather
Closure: Lace
Ability level: Beginner to intermediate
What we like: Good performance shoe to help push into harder grades.
What we don't: A bit more specialized than other entry-level shoes.
You can't argue with Italian craftsmanship, and Scarpa shoes are almost always outstanding across the board. That said, their beginner trad shoe—the Helix—is a bit more specialized than others on this list, and is truly for climbers with some experience. The good news is that many beginners progress quickly, and if you're one of them, this shoe is a first-rate choice.
The Helix has been in Scarpa's lineup for years, and it's easy to see why. It perfectly blends comfort and performance for moderate-to-long alpine and trad routes (Scarpa even boasts that the Helix is a secret weapon for guides, and we believe them). The comfortable leather upper and padded tongue support all-day use, while the slightly asymmetrical fit and XS Edge rubber ensure you'll be able to stick the tricky crux of the route. In fact, these shoes could go head-to-head with the Mythos in almost every category—but we do think La Sportiva's beginner trad shoe offers a more customizable fit for a variety of foot sizes. 
See the Men's Scarpa Helix  See the Women's Scarpa Helix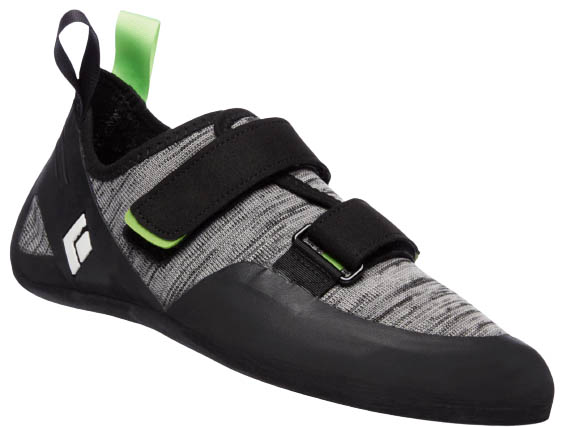 Upper: Synthetic
Closure: Velcro 
Ability level: Beginner
What we like: Breathable knit upper and durable Neo Fuse outsole.
What we don't: Poorly designed closure results in pressure points at the top of the foot.
Based in Salt Lake City, Black Diamond is a leader and innovator in climbing gear, including a range of popular harnesses, helmets, quickdraws, climbing shoes, and more. The Momentum here is their flat, entry-level design similar to the Scarpa Origin and Evolv Defy above, but with a few important differences that make it a laudable choice for the gym. Most notably, the stretchy knit upper breathes well in sweaty indoor environments, and the Neo Fuse rubber is a durable choice for the high-volume nature of indoor climbing. And Black Diamond continues to hone the design: the most recent update features a softer lining and toe rand, improved midsole for better edging, and retooled fit with more tension from toe to heel. 
Despite these positive changes, however, the design of the Velcro closure on the Momentum remains substandard. Unless we're super meticulous in tightening the shoe, chances are the fabric will bunch up under the straps and result in pesky pressure points on top of the foot (the lace-up alternative might be a better fit for some). Further, the flat last and roomy toe box may hold you back from progressing like you might in a more downturned, asymmetric shoe like the Scarpa Force V above. But at just $100, the Momentum is one of the more affordable options here, and its durability and breathability are undeniably appealing for indoor use... Read in-depth review
See the Men's Black Diamond Momentum  See the Women's Black Diamond Momentum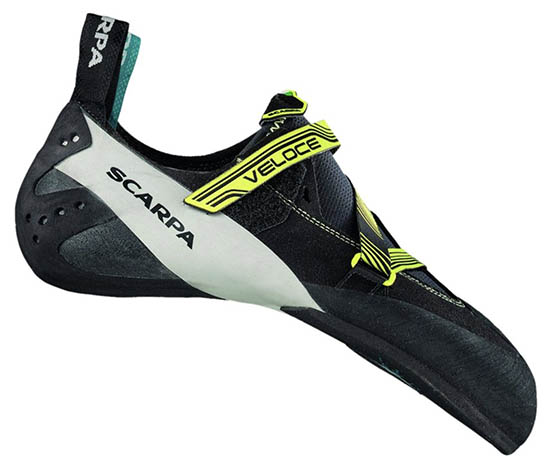 Upper: Synthetic
Closure: Velcro
Ability level: Beginner to intermediate
What we like: A high-performance beginner shoe for the gym.
What we don't: Expensive and not all that versatile.
In years past, beginners typically cut their teeth on low-angle slabs outside, where flat and stiff shoes like the Endeavor and Origin above shine. But with more and more climbers getting their first taste of the sport on indoor walls (read: steeper routes with bigger holds), there's a new demand for softer and more downturned beginner kicks. The Veloce is Scarpa's answer, merging gym climbing precision with a comfort-focused shape, durable rubber, and relatively affordable price tag that undercuts much of the more aggressive competition.
We love the concept of the Veloce and, given the popularity of gym climbing, expect other brands to follow Scarpa's lead. That said, $159 is still a sizeable investment for many newcomers. And with a clear indoor focus and rubber that's more sticky than long-lasting, the Veloce has limited appeal for outdoor use (its super soft build isn't ideal for true beginners either). As an alternative, the Evolv Defy above ($89) provides a similarly soft feel but lacks the aggressive downturn for precision on overhanging terrain. 
See the Men's Scarpa Veloce  See the Women's Scarpa Veloce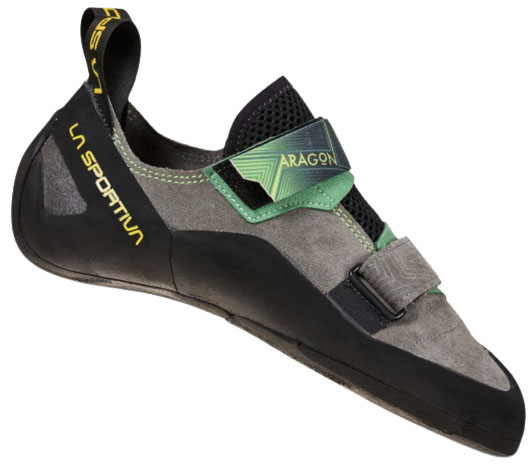 Upper: Leather
Closure: Velcro
Ability level: Beginner to intermediate
What we like: Great all-around shoe from our favorite climbing shoe manufacturer.
What we don't: FriXion isn't the grippiest rubber. 
Released last spring, the La Sportiva Aragon is yet another high-quality beginner offering from one of the best shoe manufacturers in climbing. It follows the same formula as many entry-level shoes here, with an unlined leather upper, Velcro hook and loop closure, durable sole (in this case, 5mm of FriXion rubber), and a padded tongue for added comfort. And like our top-ranked Endeavor, the Aragon tacks on a slight downturn and asymmetric toe, giving it more of a performance bent than shoes like the Tarantulace above. It all adds up to a solid all-around choice, whether you're just getting started in the gym or embarking on long top-rope pitches outside. 
Given the Aragon's slight performance slant, we were disappointed to see that it uses FriXion rubber, which is among the most durable yet least sticky blends. For $10 more, you can bump up to a shoe like the La Sportiva Finale below and get Vibram's XS Edge, which offers noticeably better grip on real rock. But for an affordable starter shoe that's versatile for all sorts of climbing, the new Aragon is a great value and goes head-to-head with time-tested models like the Scarpa Origin and Butora Endeavor above. 
See the Men's La Sportiva Aragon  See the Women's La Sportiva Aragon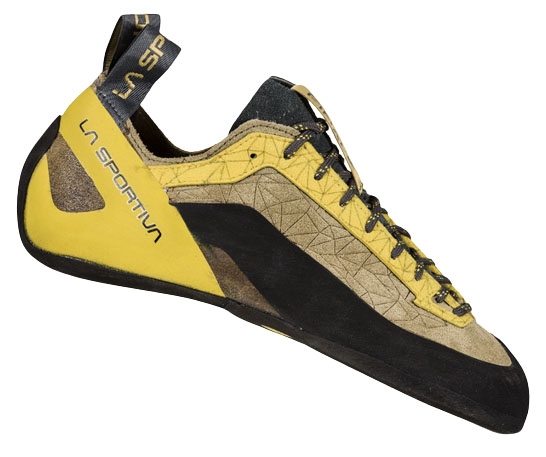 Upper: Leather/synthetic
Closure: Lace
Ability level: Beginner to intermediate
What we like: Durable; great support for all-day trad climbs.
What we don't: Stiffer and more expensive than the Helix above.
The Finale is an entry-level climbing shoe with some features that will help you start to get a feel for what a more high-performance shoe might be like. Like La Sportiva's top models, this shoe sports Vibram's stiff XS Edge rubber, padded mesh tongue, a tensioned heel rand, and the company's proprietary P3 system that holds the downturn of the shoe over time. However, given the Finale's unlined construction (great for out-of-the-box comfort) and durable 5mm sole, it's not lost on us that this shoe is tailored toward new climbers.
Priced at $129, the Finale goes head-to-head with Scarpa's Helix above. Both are great options for new trad climbers, but there are a few key differences. First off, the Finale can handle a lot more wear and tear, with 5 millimeters of rubber on the sole compared to the Helix's 3.5 millimeters. This also plays a big part in performance: The Scarpa is relatively soft and sensitive, while the La Sportiva will feel stiffer, especially during the break-in period. In the end, your final decision will come down to personal preference—some climbers love a supple and responsive trad shoe, while others prefer more structure and support. Lastly, the Finale just received a revamp for the 2022 season, with updated aesthetics and a reduced environmental impact (40% of the shoe is now built with recycled materials).
See the Men's La Sportiva Finale  See the Women's La Sportiva Finale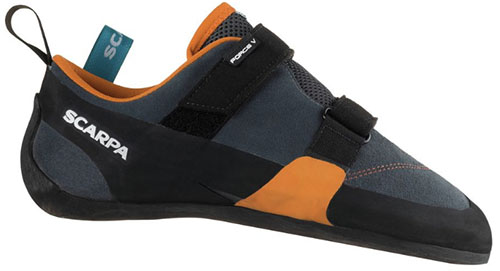 Upper: Leather
Closure: Velcro
Ability level: Beginner to advanced
What we like: High-quality construction; good all-rounder.
What we don't: Jack of all trades, but master of none.
Initially designed as an entry-level sport climbing and bouldering shoe, Scarpa's Force V quickly was adopted by experienced trad climbers as a comfortable option for long days on the wall (in fact, we wore the shoe on a 3,000-foot 5.11+ climb in the Bugaboos and loved it). A beginner shoe that expert climbers love makes the Force V a great option for talented newcomers or those looking to progress quickly. It edges decently, crack climbs well, smears comfortably, and can be worn all day (even with socks).
Given its relatively steep price tag, the Force V isn't our first choice for true beginner climbers—consider it one of the most premium entry-level models on our list. Further, while the flat last is ideal for climbing on vertical-to-slabby terrain, it will feel clunky and imprecise on overhanging routes (check out the Scarpa Veloce above for a downturned alternative). In the end, most new climbers will be just as happy with one of the $100 shoes above, and if you really want to go premium, you can spend up for a shoe like the TC Pro below. But there's certainly a market for the Cadillac of beginner shoes, and chances are you'll notice a slight boost in performance thanks to its premium materials and construction. 
See the Men's Scarpa Force V  See the Women's Scarpa Force V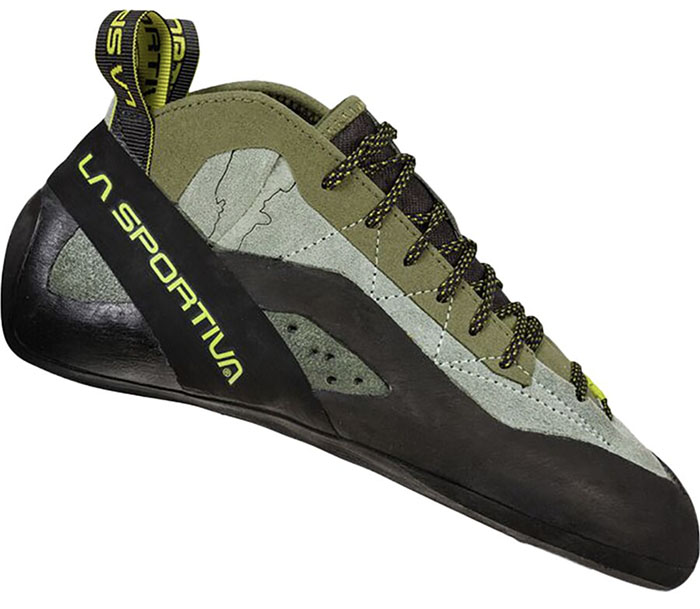 Upper: Leather
Closure: Lace
Ability level: Beginner to advanced
What we like: The best shoe for crack climbing, period.
What we don't: Expensive and overkill for most beginners.
We'll address the elephant in the room right up front: the La Sportiva TC Pro is decidedly not a beginner shoe. In fact, this is the shoe that Tommy Caldwell designed (hence the "TC") and wore during his free ascent of the Dawn Wall. Heck, Alex Honnold free-soloed El Cap in it too. The TC Pro can do just about anything on granite, from perching on tiny dime edges to gripping vertical slab. But while most beginners won't need this level of performance for moderate routes, we recommend the TC Pro for one discipline in particular: crack climbing.
We've taught a lot crack climbing clinics, and one of the most consistent obstacles for new climbers is foot pain. In short, there's nothing natural about shoving your entire foot into a crack and then fully weighting it. And while most climbing shoes don't offer much help with their fairly thin (and often unlined) uppers, the TC Pro features padding on the top of the foot and full ankle protection, which makes a massive difference. If you're stoked on cracks or are cutting your teeth in mountainous areas like Washington Pass or the Sierra, there's simply no better option, even for newer climbers. 
See the La Sportiva TC Pro
Beginner Climbing Shoe Comparison Table
Beginner Climbing Shoe Buying Advice
What to Look for in a Beginner Shoe
Beginner climbing shoes are easily discernible if you're staring at a wall of all your options. To start, they're generally flat, while more advanced shoes have at least some downturn (think a curved banana shape). The toe tends to be almost rounded and only slightly asymmetrical (if at all), compared to the more pointed toe of an aggressive shoe. And finally, beginner shoes tend to be less flashy—they lack many of the bells and whistles found on higher-level models.
That said, a quality starter shoe should come with a few very important features—not all of which are visible upon first glance. First: a low price tag. As a beginner, you can easily spend more than $200 on a pair of climbing shoes, but you certainly don't need to (see "Why Beginners Should Spend Less" below). Second: a relatively durable sole. Some rubbers are softer (and thus grippier) than others, but beginner shoes are made with harder, stiffer blends to ensure they last while you're learning how to use your feet on the wall. And the most important feature, by far: comfort. Climbing is a tough sport with a steep learning curve, and it's a lot harder to stick with it if your feet are screaming every time you put on your shoes. Over time, you will adapt to the pain of tighter shoes, but we recommend starting with a pair that you can wear comfortably all day.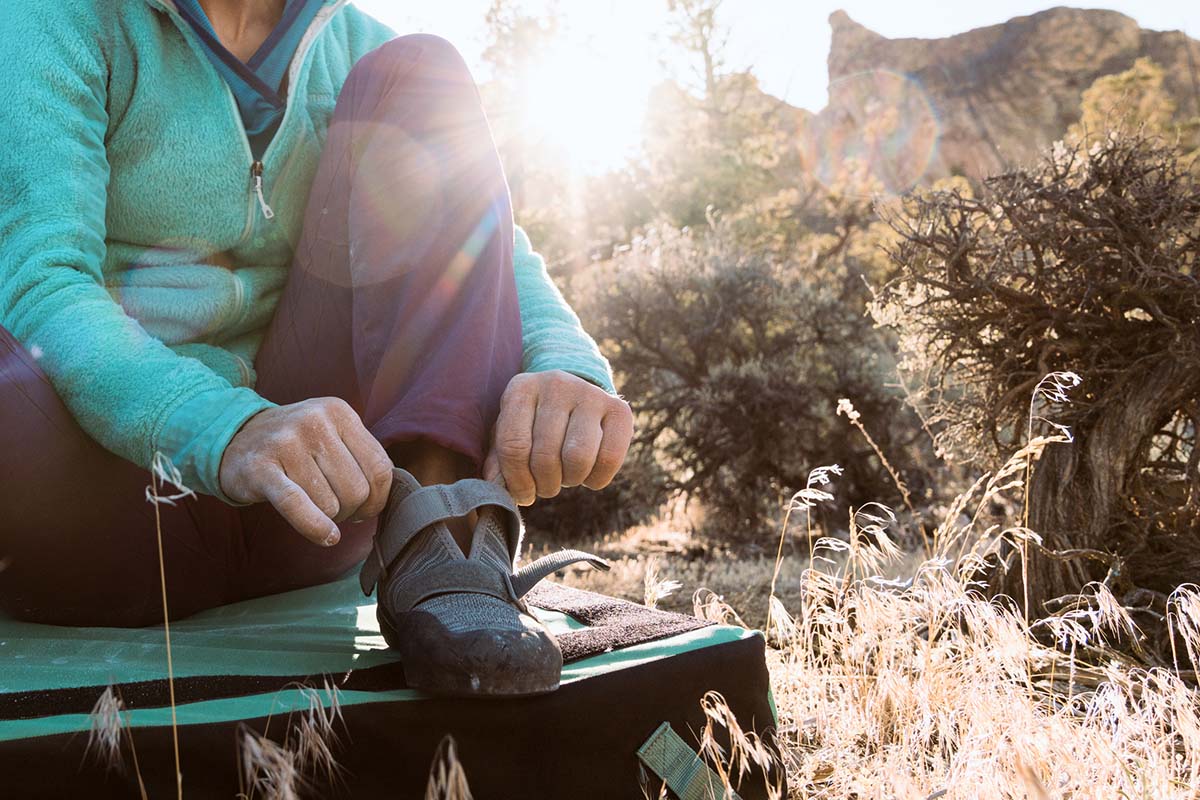 Gym vs. Outdoor Climbing Shoes
All of the shoes on this list can be worn for both gym and outdoor climbing, although many trend toward one discipline or the other. If you're sticking mostly to the gym, you'll probably want a Velcro closure for easy on and off and durable soles (5mm of rubber) that can take a beating—your shoes will see a lot more mileage in the gym than outside. On the flip side, indoor routes tend to be significantly steeper than lower-grade climbs on real rock, so soft shoes with a good amount of flex and sensitivity (like the Evolv Defy) can be helpful, especially if you favor bouldering over roped climbing.
Those cutting their teeth outside will likely want to bump up to a higher-performance shoe. You might not think twice on a gym 5.7, but climbing on real rock is a whole different ballgame. Having a little more confidence in your footwear when there are greater consequences (like a ground fall) can help considerably. Look for high-quality rubber blends like Vibram's XS Grip2 and XS Edge, and if you plan to stick your feet in cracks (as is common in trad climbing), a lace-up shoe is a good idea. Finally, because you'll likely start on slabs rather than overhanging terrain, we recommend a stiffer shoe with good edging capabilities, like the Scarpa Force V or La Sportiva Finale. For more information on the various features important to climbing shoes, continue reading our breakdown below.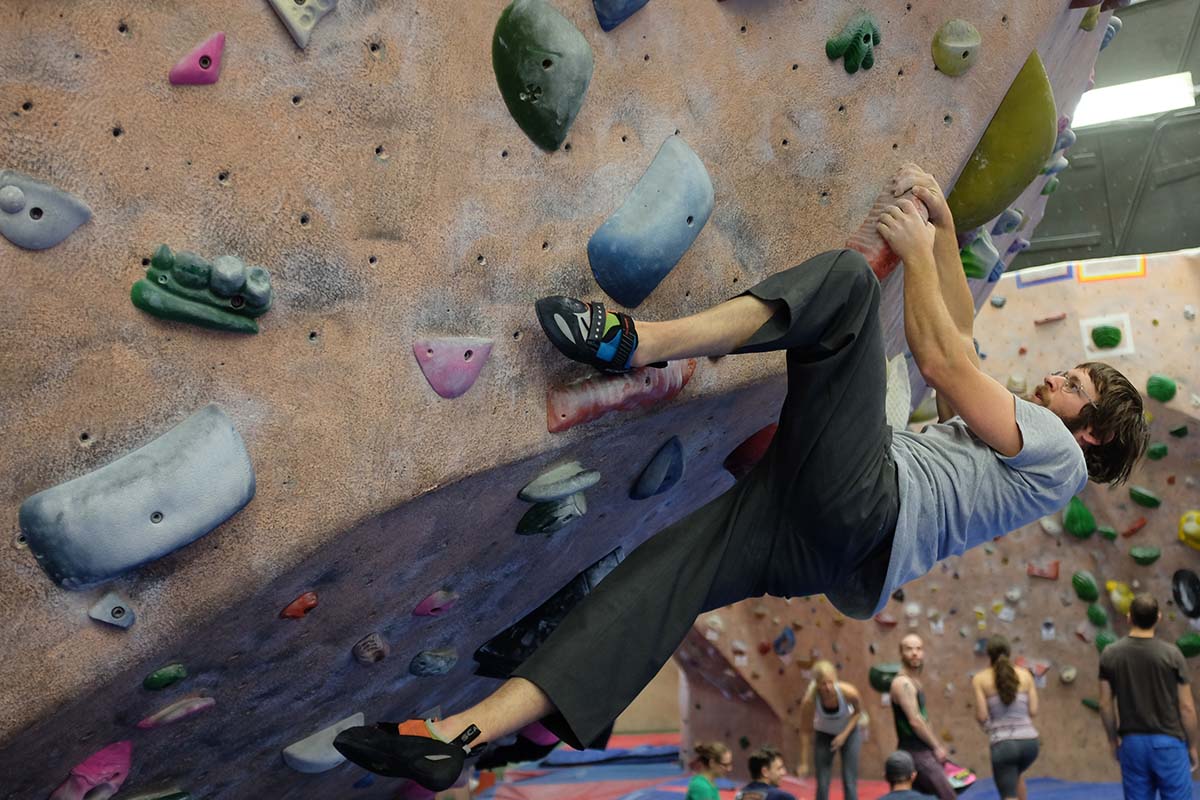 Uppers: Leather vs. Synthetic
It can be confusing to understand the often-subtle differences between materials in outdoor gear, but in this case, there's a golden rule: leather stretches; synthetic doesn't. While there are a couple of exceptions (leather is sometimes lined, which prevents it from stretching quite as much), this rule will hold true for almost all climbing shoes.
For beginners, both leather and synthetic can be good choices, but it's important to consider the implications. If you choose an unlined leather shoe like the La Sportiva Mythos, expect it to stretch a whole size over time. That means you'll have to size it small from the get-go and face a potentially painful break-in period. If you go with a synthetic option like the Evolv Defy, expect the shoe to stay true to size. While this might sound (and feel) like a good thing at first, the initial benefits quickly wear off, while leather conforms to the shape of your foot to eventually provide superior comfort. If we were to make a recommendation, we'd tell you to stick it out and go with leather. It tends to be more durable and comfortable over time, both of which are important considerations for beginners.
Closures: Lace and Velcro
There are two main types of closure systems for climbing shoes: lace and Velcro. Since there's no unanimously superior closure type for beginner shoes, we'll let you make the final decision. Below, we break down the pros and cons of each. And keep in mind that many of the shoes in this article are available in both lace-up and Velcro versions—if you like the sounds of a shoe but prefer a different closure system, you may be in luck.

Lace
Laces are helpful for novice climbers because you can tailor the comfort-to-performance ratio specifically to your level of climbing. In other words, you can adjust the tightness and fit of the shoe around your foot depending on how you want it to perform. At first, you'll probably find comfort more important, but over time, you'll likely care more about performance. Laces give you the versatility to tighten or loosen your shoes accordingly. That said, laces can quickly become a pain if you're putting on and taking off your shoes repeatedly, as is the norm in the gym or while bouldering. They can also break and be difficult to replace (one of the few problems with the La Sportiva Mythos Eco). We recommend lace-up shoes if you're primarily crack climbing outside, but for everything else, beginners should stick with Velcro or elastic closures.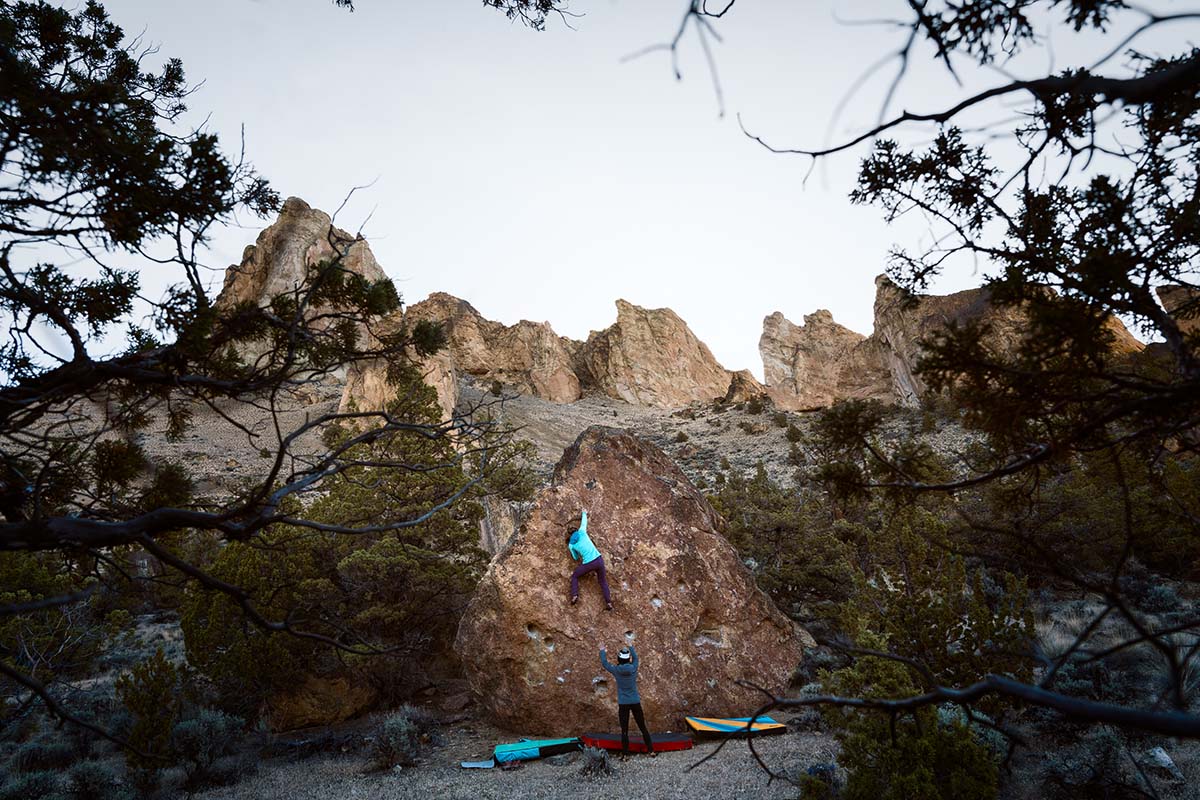 Velcro
Velcro is incredibly practical—it's always easy on-and-off, which is paramount for gym climbing and bouldering, both outdoors and indoors. The downside? Velcro can be somewhat limiting in how well it fits—you can only tighten or loosen as much as the material allows. It also tends to fail over time, which is a major concern we have with a shoe like the La Sportiva Tarantula. And a quick note for the crack climbers out there: if you plan on spending a lot of time wedging your way up 'em, Velcro is not an optimal choice, as it can snag, undo mid-route, or cause painful pressure points. However, if you're primarily bouldering or gym climbing, we absolutely recommend a Velcro shoe.

Soft vs. Stiff
A simple way to categorize climbing shoes is by the stiffness of the midsole and sole. Climbers who gravitate toward steep boulder problems or gym climbing will likely prefer a soft shoe that allows them to flex their feet around holds. These shoes provide far greater sensitivity between rock and foot, but—as a result—your foot will have to work a lot harder than it would in a stiffer, more supportive shoe. Those who plan on climbing long routes outside will benefit from the edging, stability, and support of stiffer shoes. In general, unless you're just bouldering at the gym, we recommend that beginner climbers wear a shoe with a moderately stiff midsole to help support their foot muscles and ligaments as they build strength.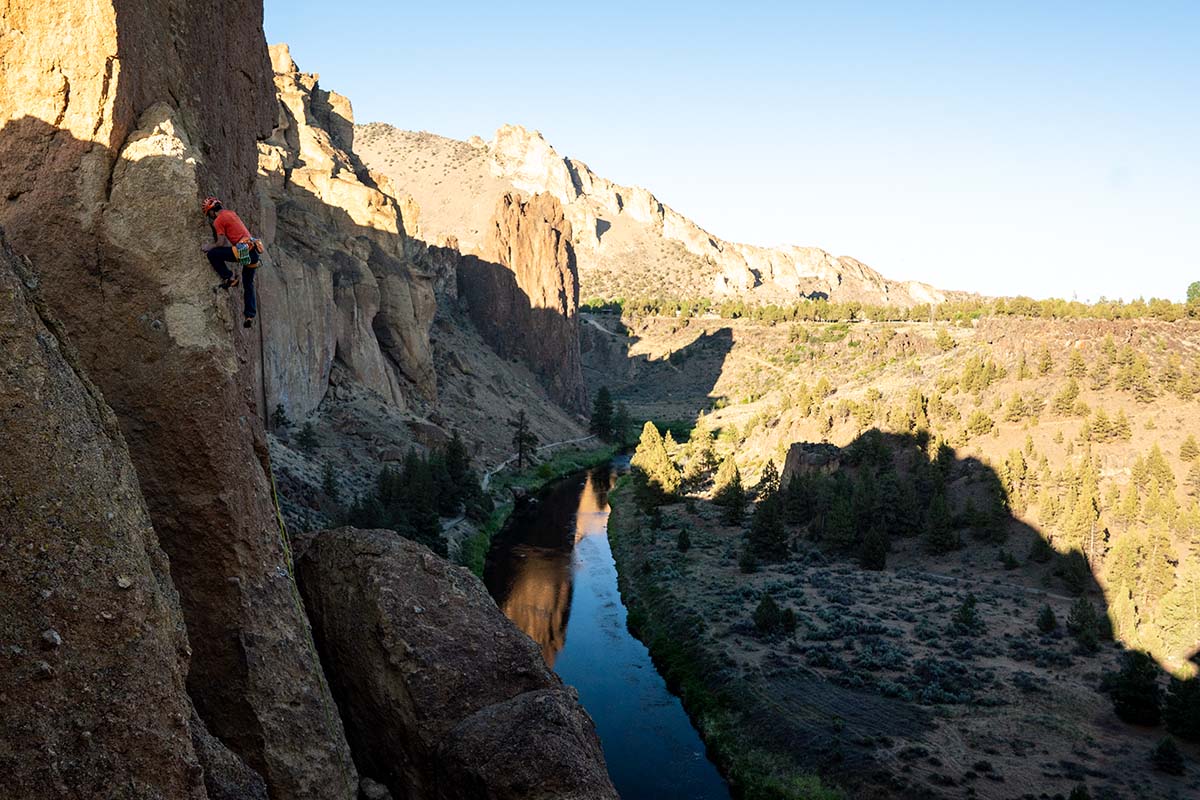 Rubber
Rubber is one of the most important features of a climbing shoe. The more time you spend climbing, the more you'll geek out about it: the different styles, thicknesses, and perfect recipe for sending your project. But for now, we'll keep it simple and talk about two main features: grip and durability. 
Your best bet as a beginner is to get the most bang for your buck, and in terms of rubber, this means a fatter sole. Anything 4 millimeters and up is a good start—anything thinner won't last nearly as long. But not all rubber is created equal—some blends prioritize grip, while others excel at durability. For example, Five Ten's Stealth C4 and Vibram's XS Edge are stickier than La Sportiva's FriXion RS, but not as durable. For true beginners, the benefits of durability will outweigh the minor differences in stickiness. But as you progress, a sole lacking in grip will actually hold you back.
Sizing: Comfort vs. Performance
You may have been told by a friend, store clerk, or climbing gym employee that you need to buy shoes so tight they hurt your feet. We're here to tell you the opposite. Beginner climbers need tight shoes—just like any climber does—but comfortably tight shoes. The initial investment in climbing is so great, and the learning curve so steep, that the last thing you want is to loathe the idea of climbing simply because your feet are in constant pain. Besides, the terrain and holds you're climbing as a beginner simply don't warrant a high-performance shoe with an uber-tight fit. It's great to be able to stand on dime-sized edges, but most beginners aren't going to be doing that anyway.
There's another important lesson here: how you use your feet is more important than what you put on them. If your shoes are a little on the roomy side, it will only force you to improve your footwork. Over time, it's best practice to get used to overcoming obstacles by working on technique rather than buying different gear. In general, get the same size you would in street shoes, or a half size down. Major exceptions to this rule (like the Butora Endeavor) will typically state them explicitly. And as we mentioned above, leather will stretch more than synthetic, so size your leather shoes down a bit and expect to endure a few mildly uncomfortable break-in sessions.
 
Men's and Women's Versions
Without getting too political about gender differences, norms, expectations, roles, etc., let's make a few sweeping generalizations. To start, males tend to run heavier and have wider feet than females. Obviously there are exceptions to this rule, but this is what you can expect to see when you compare a men's climbing shoe with a women's climbing shoe. Women's shoes are narrower and softer, and men's wider and stiffer (to accommodate more weight).
As a novice climber, it's important to know that climbing is a gender-neutral sport and nobody cares what you have on your feet. Men wear women's shoes and vice versa—all the time. If you're picky about soft versus stiff, just pay close attention as you try shoes on, and try models in men's and women's to evaluate the differences in feel. As for sizing, most companies have a conversion chart to show how male and female sizes compare (like La Sportiva's here, for example).
 
Why Beginners Should Spend Less
While not quite backcountry skiing, rock climbing isn't the cheapest outdoor sport, either. A harness will run you $60 at minimum, then add in a belay device and locking carabiner for another $30 and a gym membership for up to $100 per month. Factor in $20 for a chalk bag and $5 a month for chalk. Adds up quickly, doesn't it? If you get into outdoor climbing, you'll also need a rope, helmet, crash pad, quickdraws, and so on (you should be hearing the sound of a cash register right about now). As a beginner, it's all new, and it's all a hefty investment in something you know very little about.
All that said, why break the bank on a pair of shoes? More to the point, why spend extra for features you don't need? You're a beginner, so don't worry about a highly asymmetric toe, aggressive downturn, powerful slingshot rand, top-notch heel- and toe-hooking ability, or incredible edging precision. If you're like most beginners, you probably don't even know what half of those things mean, and you don't need to. Your only job as a new climber is to enjoy yourself and figure out if you really want to commit to the sport. So go ahead, buy cheap. Permission granted. And if you continue to enjoy climbing, you'll upgrade down the road.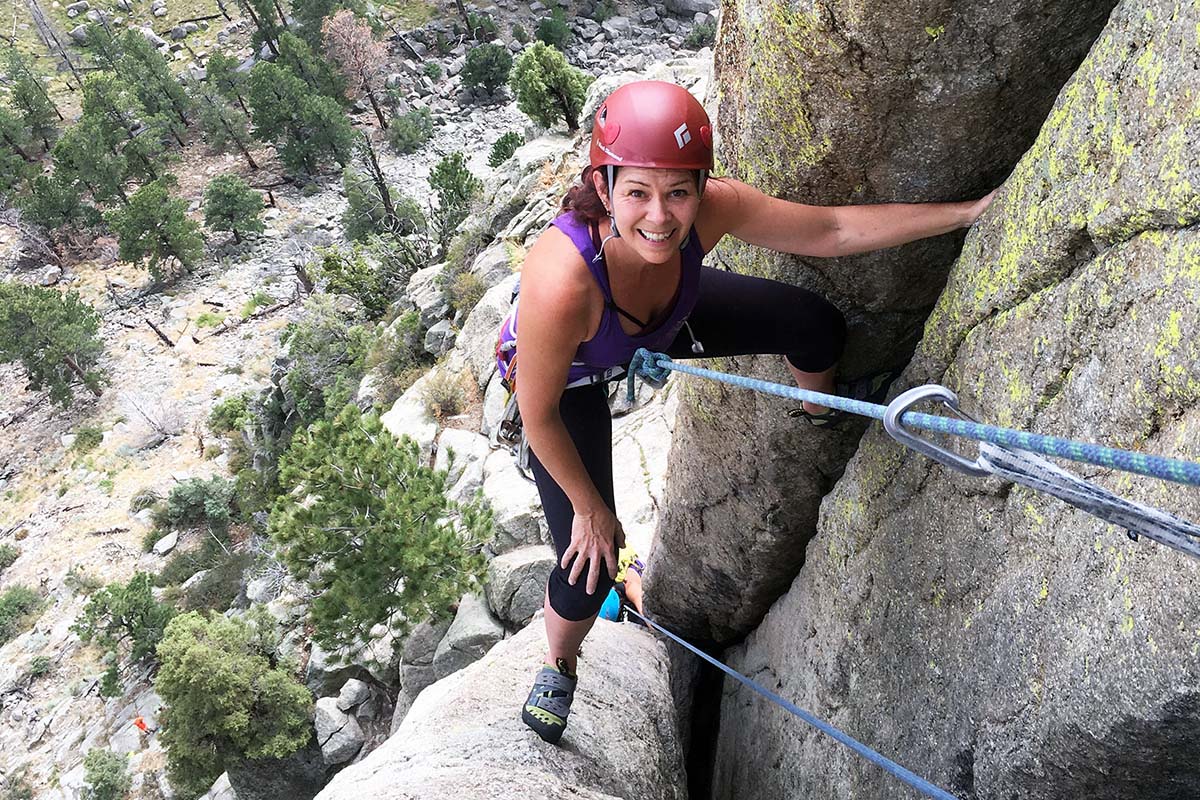 Transitioning to a More Advanced Shoe
"Beginner" is a pretty broad and relative term. Some climbers are sending 5.12s and V6s after just a month of practice. They're still beginners—just innately talented ones. If you're one of those people, few of the shoes in this article are right for you, and you should instead consider one of our top rock climbing shoes. We've also included a few models on this list—including the La Sportiva TC Pro and Scarpa Force V—as options that can transition with you into tougher grades. Generally speaking, they are more expensive, so only start out with these shoes if you're hell-bent on becoming proficient, learn quickly, or climbed out of your crib before you could walk.
If you're like the rest of us, you can expect it to take longer to break into harder grades. As you do, you'll start to feel like your shoes are limiting you. This is when you upgrade. But remember: don't buy new shoes because you think they will help you progress. Buy new shoes because you have already progressed and your old shoes are holding you back. If you use your shoes as a crutch, you'll tend to make excuses for what is really a lack of strength and technique. Conversely, if you develop the strength and technique first, and turn to new shoes second, you'll actually get the boost you're looking for because you'll already be adept at doing more advanced moves with less advanced shoes.
Back to Our Top Climbing Shoe Picks  Back to Our Climbing Shoe Comparison Table
Learn More About Climbing