Women know the struggles in choosing hiking pants: Fit, comfort, and storage considerations all can be difficult to dial in. But the market has improved significantly of late, with a range of designs that offer impressive performance and feature sets. Regardless of style, our favorite models are mobile, breathable, and durable for activities from casual day hiking to backpacking and even bouldering. Below we break down the best women's hiking pants of 2022, from summer convertibles to mountain-ready softshells and form-fitting leggings. For more background information, see our comparison table and buying advice below the picks.
 
---
Our Team's Women's Hiking Pant Picks
---

Best Overall Women's Hiking Pant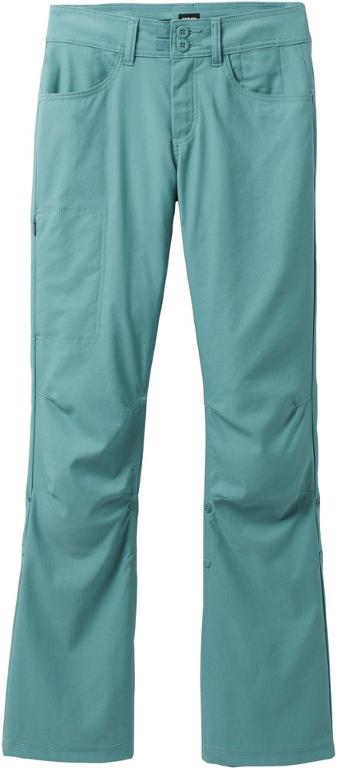 Category: Performance/casual
Materials: 95% nylon, 5% elastane
Waist: Drawcord
What we like: A great combination of style and performance.
What we don't: Fit and fabric quality dropped with the recent update.
With an excellent combination of style and performance, our favorite women's hiking pant for 2022 is prAna's venerable Halle. The Halle simply puts it all together better than most: It's available in a range of colorways and sizes (including plus sizes and three different lengths), the stretchy fabric is comfortable and highly mobile, and you get a full array of functional features, including deep hand pockets and snaps to secure rolled-up legs. This pant seems to provide a flattering fit for almost every body shape, and the high rise and cinchable waistband keep you covered while high-stepping over logs or bending over to pitch a tent. More than anything, we've been super impressed by the Halle's nylon/spandex construction, which is incredibly hardwearing, resists stains, and maintains a high-end look even after dozens of washings or weeklong stints on the trail.
All that said, there's a big asterisk next to our recommendation of the revamped Halle II. While we appreciate that the new ReZion fabric uses recycled nylon, it's noticeably less soft than the prior model and has a cheaper, silkier feel. The fit has changed slightly, too: There's a bit of extra room at the lower stomach, and sizing runs pretty big—our female tester is usually between a 4 and 6 but ended up going with a size 2 in the Halle II. Finally, some of our prior complaints still remain: The zippered thigh pocket is not large enough for a smartphone, the internal drawstring can create pressure points underneath a hipbelt or harness, and the thick fabric runs warm for mid-summer hiking. But among the competition, it's still hard to beat the Halle's versatility for a range of body sizes and outdoor pursuits, which is why we rank it here. The pant is also available in straight-leg and jogger versions, which both also retail for $95.
See the prAna Halle II
Best Budget Women's Hiking Pant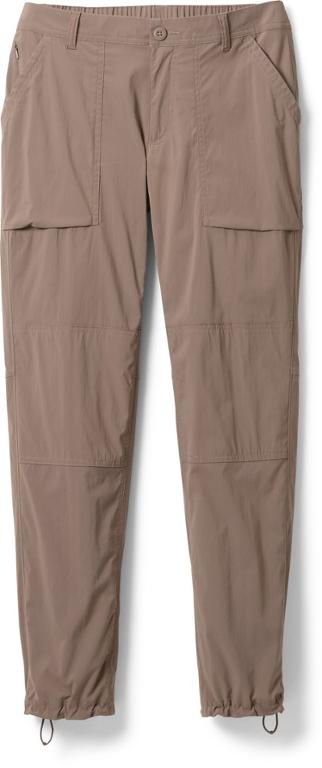 Category: Performance
Materials: 94% nylon, 6% spandex
Waist: Elastic (partial)
What we like: An affordable and functional pant for warm-weather hiking.
What we don't: No built-in belt and thin fabric is prone to abrasion.
Many of the options on this list are approaching $100, but affordability isn't the only reason we love REI's popular Savanna Trails Pants. Made with lightweight nylon, the Savanna Trails is both breathable and quick to dry, making it a great choice for summer outings and travel. Comfort is a strong suit as well, with integrated stretch and articulated knees that lend mobility for both trail and camp activities. What's more, the REI tacks on functional extras like reinforced knee patches and bungees at the cuffs for securing the legs at the calf or away from your shoes (a great feature for climbers in particular). Added up, the Savanna Trails is a suitable hot-weather alternative to the Halle above for around $35 less.
Despite being well built for the price, the Savanna Trails does come with some notable compromises. While the fit is surprisingly flattering and less boxy than expected from REI, the pants tend to sag a bit at the thighs and waist when worn for multiple days in a row. We also found the elastic at the waist to be pretty meager and ended up having to use a small piece of cord to prevent them from falling down (a built-in belt or cinch would be very helpful here). Additionally, the thin fabric is prone to pilling—especially between the thighs—and won't hold up to wear and tear as well as more premium designs (we experienced abrasion at the pocket after just a few days of use). Finally, while storage is better than average, there's no spot for securely stowing a smartphone (it only fits in the non-zippered hand pockets). But with an extensive array of sizing options at a really great price, the Savanna Trails gets our vote as the most well-rounded budget pick this year.
See the REI-Co-op Savanna Trails
Best Women's Hiking Pant for Hot Weather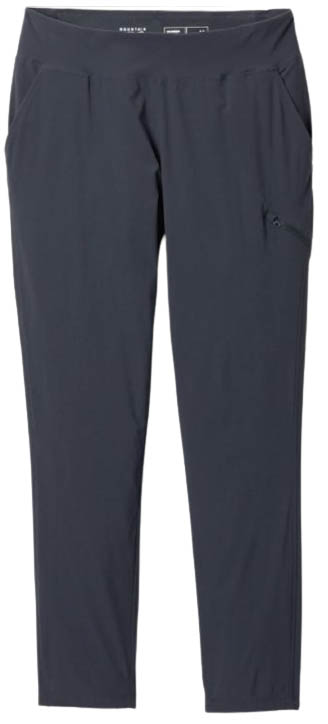 Category: Casual/performance
Materials: 94% nylon, 6% elastane
Waist: Elastic
What we like: Style and performance in a light and breathable package.
What we don't: Odd fit and no functional phone storage.
Many hikers opt for shorts or capris in the summer months, but if you prefer to keep your legs covered (we certainly do when bushwhacking), you'll want a lightweight pant with minimal fabric and maximum breathability. Enter the Dynama/2 Ankle Pants from Mountain Hardwear, which slots in as our favorite pick for warm days on the trail. The lightweight nylon/spandex blend keeps weight low and air flowing while still offering good all-around durability, and the pants are quick to wick moisture and dry out when wet. Another highlight is the wide, closure-free elastic waistband, which fits comfortably under a pack's hipbelt and minimizes chafing and discomfort on sweaty skin. Tack on a relaxed fit, ankle-length crop, and deep drop-in-style hand pockets, and you get a stylish pant that offers great breathability and mobility for hot-weather hikes, after-work boulder sessions, or just lounging.
However, while the Dynama/2 Ankle is fully serviceable for casual days on the trail, it does sacrifice some storage and lacks technical capabilities for serious mountain pursuits. The hand pockets are deeper than most, and the zippered thigh pocket is a nice touch, but the pant forgoes rear pockets and lacks a functional spot to store a phone. Further, the tapered, ankle-length hem can be challenging to roll up over thicker calves and leaves a small area of your legs vulnerable to branches and bugs. Finally, we found the fit to be a bit odd with a noticeable amount of bagginess around our hips (we ended up having to go down a full size). But if they fit you well, the Dynama/2 are a fun alternative to more traditional styles and a nice option for summer trail days.
See the Mountain Hardwear Dynama/2 Ankle
Best Leggings for Hiking

Category: Performance
Materials: 87% polyester, 13% spandex
Waist: Elastic
What we like: Excellent comfort, functional storage, and durable materials.
What we don't: Doesn't dry quickly and breathability falls short in hot weather.
Not everyone likes to wear traditional nylon hiking pants on the trail, and uber-comfortable and stretchy leggings (also referred to as tights) are a popular alternative. While your standard "athleisure" designs from brands like Lululemon and Athleta will certainly get the job done, a hiking-specific model offers sizable boosts in performance, convenience, and longevity. With a healthy number of options on the market, the Patagonia Pack Out Hike Tights strike us as one of the most well rounded, with a great assortment of storage, soft yet durable materials that hold their shape over time, water-resistant patches at the seat and knees, and a wide elastic waistband that stays in place and limits bunching and friction under a pack.
However, while we love the comfort and style of leggings, there are some undeniable shortcomings when it comes to performance. In general, tights are less durable than traditional hiking pants and don't offer the same amount of wind or water resistance. To be fair, we have no qualms about the Pack Out's reinforcements at the knees and seat, but the softer materials elsewhere do give us pause when bushwhacking. And due to the close fit, you'll give up a fair amount of breathability—the Pack Out Hike Tights in particular are too thick to wear on hot days, and their heavyweight fabric is slow to dry. But while you can certainly pay less for a pair of generic leggings, the Pack Out Hike Tights are a mountain-ready alternative that will hold up to the rigors of trail life.
See the Patagonia Pack Out Hike Tights
Best Softshell Pant for Alpine Use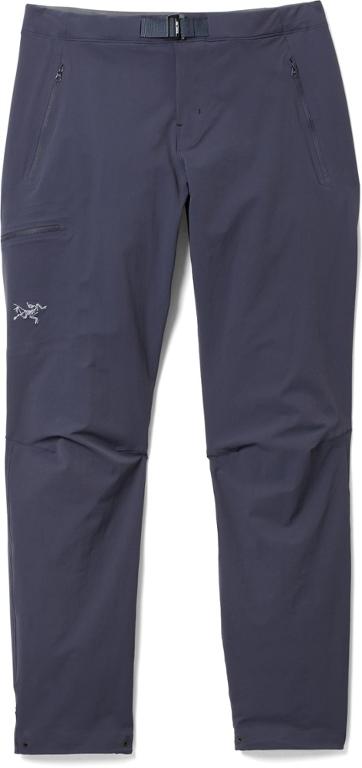 Category: Performance
Materials: 88% nylon, 12% elastane
Waist: Built-in belt
What we like: A high-end pant with great durability, weather protection, and features.
What we don't: Expensive and overkill for casual and fair-weather hikers.
There are many great lightweight options for hiking in summer heat, but on a high-altitude trek through Peru's Cordillera Huayhuash, we turned to the more serious Gamma LT. What sets this softshell pant apart is its impressive warmth and weather resistance in a lightweight and nimble build. Durability is great too: We wore the Gamma LT every day for nine days straight while hiking, setting up camp, filtering water, cooking, and lounging, and the pants came home looking like new. Moreover, their high-quality softshell fabric was stretchy enough to layer comfortably over thermal pants in the cold evenings and retained its shape through it all. At $180, the Gamma LT is one of the most expensive pants on our list, but with Arc'teryx's quality, performance, and attention to detail, you certainly get what you pay for. 
Arc'teryx updated the Gamma LT for this season, and the newest version features a more streamlined waistbelt and redesigned pockets (two hand and one thigh, all with zippers). This revamp is great news, as the waistbelt was our primary gripe with the previous model (the metal fastener caused pressure points under our pack's hipbelt). With a pant like the Gamma LT, it's important to be aware of the limitations: It's ideal for when you need a step up in weather protection and warmth, but overkill for low-elevation hiking and even mid-summer days in the mountains. Most hikers can save $100 by opting for thinner yet also high-performance options like the Ferrosi, Quandary, and Alroy below. And for a slightly cheaper softshell design with a roomier fit, see Mountain Hardwear's Chockstone Alpine Pant. 
See the Arc'teryx Gamma LT
Best of the Rest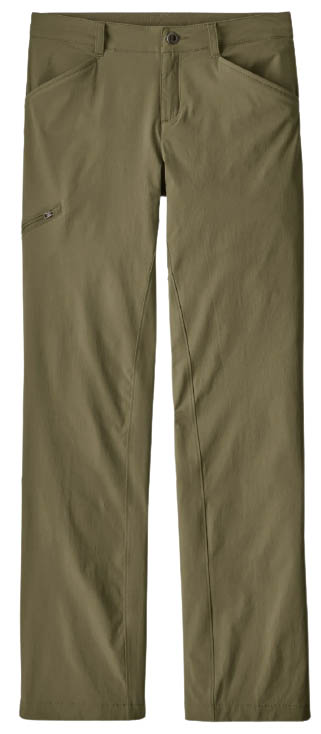 Category: Performance
Materials: 95% nylon, 5% spandex
Waist: Drawcord
What we like: High-quality fabric and great Patagonia fit and finish.
What we don't: Drawcord adjustment isn't as good as a belt.
A traditionally styled, all-season hiking pant, the Patagonia Quandary checks all the important boxes in the performance category: It uses a tough but light fabric with a DWR coating, sports articulated knees and a gusseted crotch, and has a clean and unobtrusive look and feel. Like many of the other options here, the pants feature a built-in tab and snap to keep rolled-up cuffs in place and are also available in short variations for true summer temperatures. And as we've come to expect from Patagonia, there's a strong sustainability element with recycled nylon and bluesign-approved fabrics, which indicate they're safe for the environment, workers, and consumers.
The Quandary is a great option for hot-weather hiking, and some will prefer the traditional styling over the jogger-like fit of the Mountain Hardwear Dynama/2 above. Both pants offer good stretch and mobility, although the Quandary's internal drawcord allows for better fit customization than the Dynama's simple elasticized waist (on the other hand, it's made of thin elastic and can be difficult to tighten). Finally, we're disappointed that Patagonia skimped on functional storage, with drop-in front pockets that barely fit a hand (compared to the Dynama's very large hand pockets that easily swallow a phone) and only one zippered side pocket. That said, the Quandary is an undeniable value at just $89, and many will appreciate the adjustability at the waist and cuffs. Finally, it's currently available in 12 sizes and two inseam lengths, so there should be a Quandary for everyone. 
See the Patagonia Quandary Pant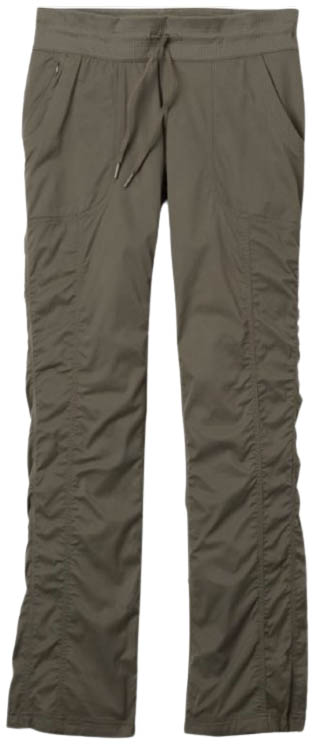 Category: Casual
Materials: 95% nylon, 5% elastane
Waist: Elastic/drawcord
What we like: Great styling, breathable, and cinchable ankles.
What we don't: Limited storage and fabric isn't very durable.
Technical fabrics and performance styling have their place, but for day hiking and traveling, we prioritize comfort and breathability above all else. One of our favorite designs in this category is The North Face's Aphrodite 2.0, which combines everyday style with a light and airy build that's wildly comfortable and quick-drying. The plush, rib-knit waistband feels great underneath a harness or hipbelt (although the external drawstring can get in the way at times), and drawcords at each ankle give you the option of wearing the pant with a slight flare, cinched above your feet, or pulled up around your calves capri-style. All told, the Aphrodite is one of our favorite pants to wear for casual warm-weather adventures when we still want full leg coverage.
We've worn the Aphrodite 2.0 for everything from day hikes in Patagonia to multi-pitch climbs, but we don't recommend it for demanding backcountry pursuits. The thin and lightweight materials aren't particularly durable and have a tendency to snag and pill over time, and you don't get any wet-weather assurance in the form of DWR or wicking fabrics. Further, while we love the Aphrodite's roomy hand pockets and hidden zippered stash, the lack of other storage can be limiting. But for the right uses—including casual hikes, travel, or performing camp chores—it's hard to beat the combination of comfort and price.
See The North Face Aphrodite 2.0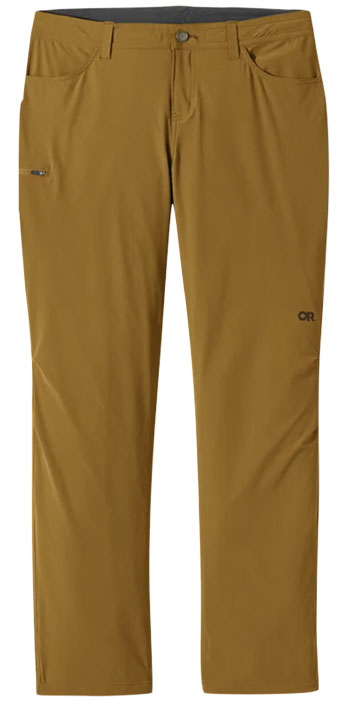 Category: Performance
Materials: 86% nylon, 14% spandex 
Waist: Drawcord
What we like: Tough, wind-resistant, and breathable.
What we don't: Not as versatile or well-made as the Halle above.
Seattle-based Outdoor Research knows a thing or two about rough weather, so it's no surprise that the Ferrosi is one of our go-to pants for three-season hiking. Despite being relatively lightweight, the Ferrosi's softshell-like nylon has a sturdy and high-quality feel and is excellent for temperature regulation: It's tough enough to cut the wind and shed a light rain but breathes when the thermometer starts to climb. The addition of 14% spandex means the pants move with you more than most (for comparison, the prAna Halle above only has 5% spandex), but the good news is that the Ferrosi still manages to hold its shape, even after multiple days of use.
The Ferrosi pants are undeniably comfortable and mobile, but their quality does fall short of other options here. We've experienced pilling fabric, and the internal waist drawcord and cuff cinches strike us as simplistic and prone to failure over time. What's more, the legs on our pants were so bulky that we routinely caught them on our opposite foot while rock climbing. It's worth noting that OR did lightly update the pants for spring of 2022, with improved stitching for better durability and stretch, more inclusive sizing, and a 46%-recycled design. All told, for a weather-resistant and quick-drying pant that won't inhibit movement, the Ferrosi is one of the most functional performance hiking pants here (and it also comes in capri and convertible designs).
See the Outdoor Research Ferrosi Pant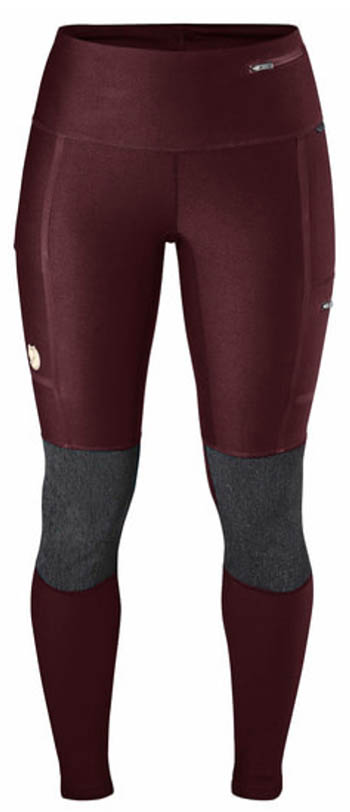 Category: Performance
Materials: 82% nylon, 18% elastane
Waist: Elastic/drawcord
What we like: The ultimate performance tight.
What we don't: Pricey and a bit thick for hot weather.
The Patagonia Pack Out Hike Tights above are a high-quality design at a reasonable price point, but Fjallraven takes performance to the next level with the Abisko. At a steep $175, these trekking tights don't come cheap, but as we've come to find over the years with Fjallraven, they do fill a unique niche in the market. In terms of the design, you get great freedom of movement with a stretchy mix of materials, as well as reinforced panels on the knees and butt for guarding against sharp rocks and damp ground. The net result is a legging that's purpose-built for the mountains and capable of withstanding regular use and abuse.
Keep in mind that the Abisko Trekking Tights are overkill for casual use, and price is a deterring factor for many. The reinforced panels are nice, and we like the storage—one large pocket on the right leg, a smaller zippered pocket on the left, and a zippered pocket at the hip—but you'll need to get out a lot to make the investment worth it. Additionally, the polyamide material is a bit denser than standard polyester and not as breathable in the heat. But overall quality and performance are top-notch, and the Abisko is also available in two trimmed-down versions, the "Pro" and the warm-weather "Trail Tights," both of which retail for $150.
See the Fjallraven Abisko Trekking Tights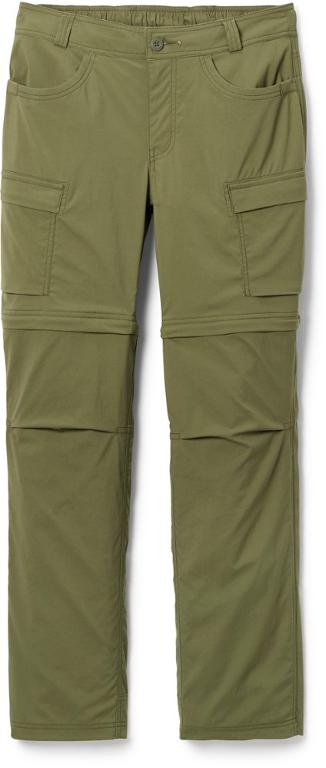 Category: Performance
Materials: 96% nylon, 4% spandex
Waist: Elastic/drawcord
What we like: Practical features at a low price.
What we don't: Baggier fit, shallow pockets, and fabric tends to pill.
For those who value function over form, the REI Co-op Sahara Convertible is a true utility belt of a hiking pant. The convertible style has long been popular for its convenience and versatility (you get a pair of shorts and pants in one), and the Sahara takes it even further with color-coded zippers on each leg and generous openings at the hem so you can make the switch without taking off your shoes. Tack on quick-drying fabrics with built-in stretch, an drawcord-equipped elasticized waist with belt loops, and nice array of storage options including cargo pockets at each side, and the REI Sahara is a great match for everything from hiking to traveling.
REI updated the fit on the latest version of the Sahara from a standard to "relaxed" fit. We liked the slimmer profile and more flattering shape of the outgoing pants, but some women found them too snug, especially in the thighs. Other changes include the addition of a DWR coating for fending off light moisture, a little more nylon (from 94 to 96%), flat seams to reduce chafing, and a simpler elastic waist (the past version had an integrated belt). However, from a quality standpoint, the REI still lacks the fit and finish of more premium models here: We've found the zippers particularly difficult to operate, and the lightweight fabric has a tendency to form holes and pill. But value is a deciding factor for many, and you'd be hard-pressed to find a pair of equally capable convertibles for less. It's also sold in a more durable (but still convertible) "Guide" model for $10 more.
See the REI Co-op Sahara Convertible

Category: Performance
Materials: 86% nylon, 14% elastane
Waist: Elastic
What we like: Great mobility by way of light and stretchy fabric and premium patterning.
What we don't: Expensive and waistband doesn't cinch. 
The warm-weather sidekick to the Gamma LT above, the Alroy is one of our go-to pants for everything from summer in the mountains to sunny shoulder season days in the desert. These pants are free-flowing and breathable, with a thin nylon build (for reference, the Gamma LT weighs 10.4 oz. while the Alroy checks in at 7.9 oz.). And despite the trim fit, you get a good amount of mobility by way of the gusseted crotch, articulated patterning, and stretchy fabric. We're also big fans of the patch of elastic at the rear of the waist, which helps to close the pesky gap that many women deal with, along with the nicely tapered legs that stay out of the way of your boots. Finally, storage is excellent, with five pockets, including two generous hand pockets and a zip pocket at the thigh (big enough for our iPhone 11 with case). 
So with all that praise, why is the Alroy ranked so low on our list? The primary reason is cost: At $119, it's $30 to $40 more than most hiking pants here. And while the partial-elastic waist fits us well, it's not particularly versatile—we wish Arc'teryx had added a way to cinch the waist tighter (a built-in belt, drawstring, etc.). Finally, availability is low through standard retailers like REI and Backcountry, and you might have to purchase the Alroy through Arc'teryx's website (good news: they offer free shipping). All told, the Alroy is one of our favorite hiking pants, and we have nothing but good to say about the fabric, which has just the right amount of stretch and has held up well to heavy use. If you're willing to fork over the extra cash, it's hard to go wrong with Arc'teryx.
See the Arc'teryx Alroy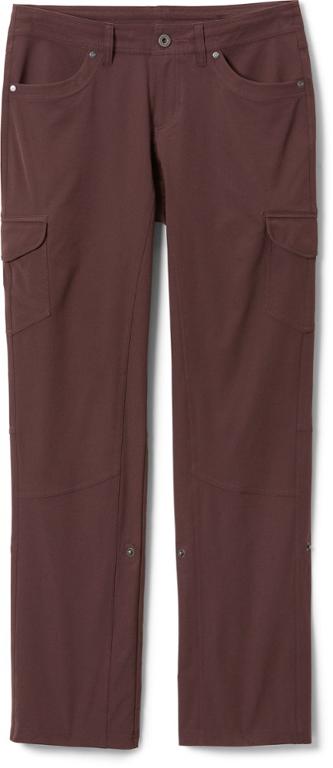 Category: Casual/performance
Materials: 50% polyester, 50% stretch polyester
Waist: Drawcord
What we like: Light, breathable, and stretchy—an ideal combination for many hikers.
What we don't: We prefer zippered storage for keeping electronics secure.
Utah-based KUHL is known for their utilitarian styling, but the Freeflex Roll-Up here hits a nice mix of performance and around-town-friendly looks. As the name suggests, these pants include a handy roll-up feature that allows you to quickly and easily convert the pants to capris (secured via a fabric loop and snap), which is a convenient option on warm summer days. The ability to secure the cuffs also makes them appealing for rock climbing and scrambling when you don't want any added material getting in the way. Additionally, the lightweight Freeflex fabric wicks moisture well, dries quickly, and provides a nice amount of give for activities like hiking and backpacking. 
As far as downsides go, the KUHL Freeflex has relatively few: It's well built, reasonably priced, and looks good to boot. Many users compliment the fit in particular, and we've been impressed by how flattering KUHL pants tend to be on our athletic figure. That said, while storage is more than adequate with six total pockets—four of which have snap closures—the lack of zippers means that valuables can fall out more easily, which is a real concern if you'll be doing anything remotely technical. However, many hikers will be able to find a spot elsewhere (like in their pack or jacket pocket), and the combination of breathability, mobility, and good all-around fit makes the Freeflex a popular and well-rounded option.
See the KUHL Freeflex Roll-Up

Category: Performance
Materials: 89% nylon, 11% elastane
Waist: Elastic/drawcord
What we like: Legging-like mobility with softshell durability and comfort.
What we don't: Tight and restrictive waistband.
For those unfamiliar, Rab is a U.K-based climbing company and makes some of our favorite technical clothing. Their Elevation Pants are a shining example and a fairly unique addition to the women's hiking pant market, combining the impressive mobility of leggings with the durability and weather resistance of softshell designs. Key to the pants' versatility and mountain-readiness is Rab's Matrix fabric, which uses a functional mix of mostly nylon with a healthy dose of elastane (11%) for excellent range of motion while scrambling or high-stepping over rocks and logs. It's also decently resistant to water and wind, UPF-rated for sun protection, and quick to dry, making the Elevation great for everything from mid-summer hikes to shoulder-season alpine adventures.
We love the streamlined look and feel of the Rab Elevation Pants, but the slim, close-fitting design does have a few drawbacks. First is the minimalist storage layout, which consists of just one pocket at the right thigh. To be fair, the pocket is protected by a water-resistant zipper and can easily swallow a large smartphone (not always the case with leggings), but we'd prefer another pocket or two for stashing additional items. Fit may also pose an issue for some women: The pants run on the smaller side, and some users report that the waistband is fairly tight and restrictive. On the bright side, you do get a drawcord closure for dialing in fit if you end up needing to size up. In the end, the Elevation Pants won't work for everyone and are a fairly niche option, but we commend Rab for thinking outside the box and think the hybrid concept is well executed overall. If you're looking for a more traditional (but still technical) legging design, check out Rab's Horizon Tights.
See the Rab Elevation Pants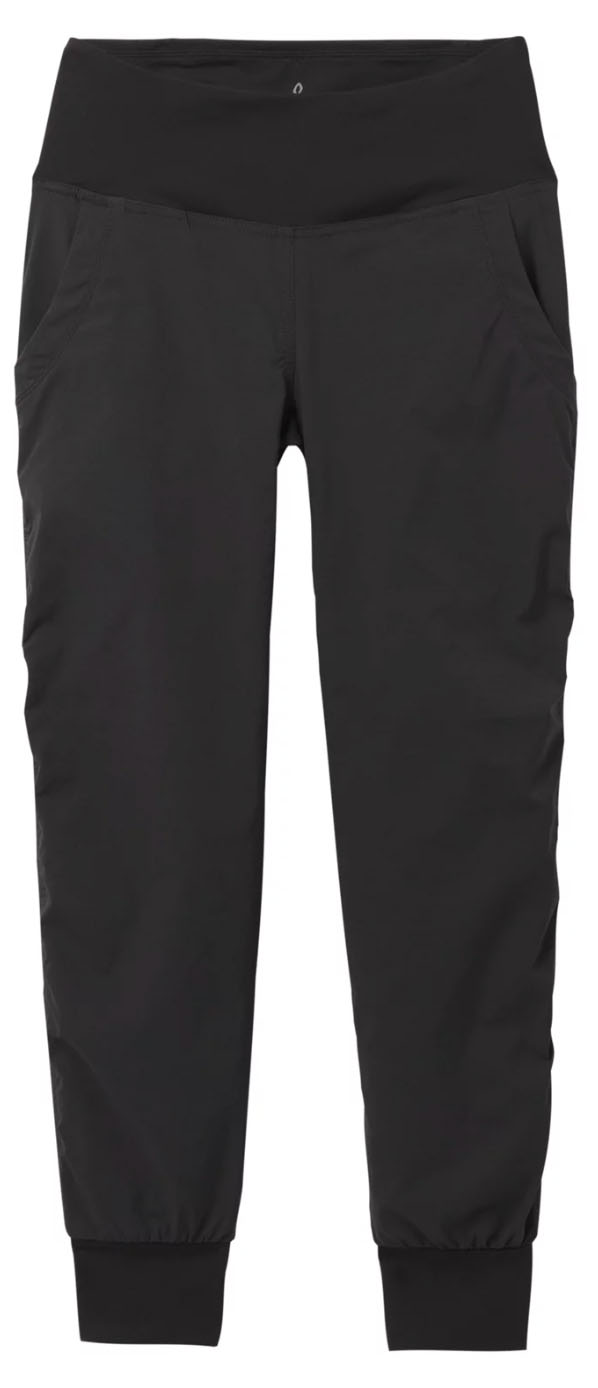 Category: Casual/performance
Materials: 95% nylon, 5% spandex
Waist: Elastic
What we like: Excellent styling and versatility.
What we don't: Fairly stiff and noisy; no zippered storage.
We covered prAna's Halle above, which offers a great mix of comfort, stretch, and durability but runs warm for mid-summer hiking. Enter their Summit Jogger, which boasts a similar overall construction but in a thinner and more airy-feeling design. Versatility is a clear highlight: The jogger design is flattering and looks good both around town and on the trail—they don't have the clown pant-like feel of some competitors—and the elasticized waist stays in place and rides high enough to provide support without feeling overly restrictive. The light dose of spandex also gives the pants a flexible feel for long days outside while adding a nice boost in durability (the fabric will "give" under pressure rather than tearing). All told, the Summit is comfortable, hardwearing, and very easy to get on and off.
Why do we have the prAna Summit Jogger ranked here? While the pants are fully serviceable for hiking and look great around town, there are a few fit and finish issues to be aware of. First, the fabric is fairly noisy and lacks the soft and supple feel of designs like the Patagonia Pack Out Hike Tights above and Athleta Trekkie North Jogger below (although it does feel more durable and water-resistant). Additionally, none of the four pockets have zippers for securely stowing valuables, and the waist lacks a drawcord for fine-tuning fit. The waistband is also on the thicker and bulkier end, which may cause issues when worn under a hipbelt. Finally, many users report that the elasticized cuffs ride high and leave some of the ankle exposed, which we also experienced with prAna's similarly built (but since-discontinued) Alana Jogger. But if you're looking for a stylish pant that will last and don't mind the small drawbacks in fit and storage, the Summit is a versatile all-around option.
See the prAna Summit Jogger
Category: Performance/casual
Materials: 87% nylon, 13% elastane
Waist: Elastic/drawcord
What we like: Legging-like look that doesn't compromise on performance.
What we don't: Limited and non-zippered storage.
For a legging-like style and fit that doesn't sacrifice performance, the Arc'teryx Sabria is an enticing option. The well-rounded design uses tough nylon that performs on par with the other technical hiking pants on our list, but the elastic waist, tapered legs, and trim build lend a decidedly feminine shape. And perhaps equally importantly, you don't give up any mobility with the pants' articulated knees, gusseted crotch, and four-way stretch (the 13% elastane blend is higher than most options here). We also love the airy, fast-drying fabric and mesh-lined pockets, which do a great job keeping you cool and allowing airflow. 
Our biggest gripe with the Sabria is its limited storage, which includes just two thigh pockets that close with flaps rather than zippers. Even compared to many leggings on our list, the Sabria's storage falls notably short, and the trim build means bulky items like a smartphone will dig into your thigh. And with such a close fit, you don't get the option of layering long underwear underneath when the mercury drops. But it's hard to argue with Arc'teryx's premium quality and fit, and especially for activities like alpine trekking and rock climbing. And for a true legging design, check out their Essent High-Rise, a durable and mountain-ready tight that's offered in two inseam lengths.
See the Arc'teryx Sabria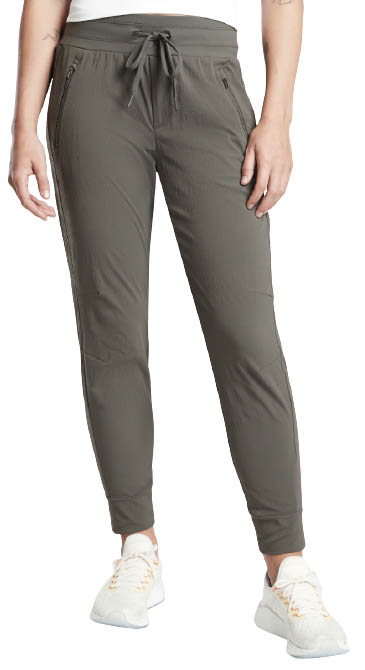 Category: Casual
Materials: 95% nylon, 5 % spandex
Waist: Elastic/drawcord
What we like: A hiking-specific jogger from one of the best in the business.
What we don't: A little pricey and not as stretchy as the competition. 
Gap-owned Athleta is a yoga pant giant, but their recent push into the hiking world hasn't gone unnoticed. From their current lineup, we like the Trekkie North Jogger best: The sleek, lightweight fabric is soft and breathable, the fit is flattering with nice tapering from the knit waistband down to the elasticized cuffs, and the two-way stretch fabric allows for good all-around mobility while still offering resistance against tears and snags. Added up, the Trekkie hits an excellent balance between performance and everyday appeal, making it a great choice for transitioning from the trail to around town.
What drops the Athleta Trekkie North Jogger down our rankings is value. At $89, it's $14 pricier than the Mountain Hardwear Dynama/2 Ankle above without enough to show for it. The fabric isn't quite as stretchy or mobile as the Dynama/2, and the Athleta also lacks a DWR finish for fending off light moisture (although you do get UPF sun protection). And prAna's Summit Jogger above technically offers more storage with two hand pockets and two rear pockets, although we prefer the additional security of the Trekkie's three zippered pockets. A final nitpick is that the Athleta runs a little short with a 27.5-inch inseam, but there are tall (30.5 in.) versions available. Taken together, it's hard to argue with Athleta's stylish fit and finish, and those who value secure storage will likely find the Trekkie North Jogger worth the investment.
See the Athleta Trekkie North Jogger

Category: Performance
Materials: 63% polyamide, 26% polyester, 11% elastane
Waist: Elastic
What we like: Uncompromised durability for technical trekking and alpine objectives.
What we don't: The priciest pants on our list and decidedly overkill for moderate hiking.
As we saw with the Abisko Trekking Tights above, Fjallraven's pants offer next-level performance for those with serious hiking objectives. Sitting at the top of their collection is the Keb, a decidedly premium and technical offering built for long days in the mountains. Like many of their designs, the Keb Trousers boast the brand's signature G-1000 fabric (used in the reinforcements at the pockets, rear, and knees), which is super tough and abrasion-resistant. Throughout testing, we've had no qualms scrambling or navigating through thick brush in these pants, and they're no worse for wear after multiple excursions into Colorado's alpine. Taken together, the Keb stands out as one of the most hardwearing and rugged designs on the market.
However, all of that material comes with some notable downsides, the most obvious of which is a lack of breathability. The Keb does have generous hip-to-knee and calf zippers that allow you to open things up to get some airflow, but that can look a little awkward if you're not wearing a baselayer underneath. Additionally, despite added stretch in the build, the pants feel noticeably stiffer and less mobile than thinner options like the prAna Halle and OR Ferrosi. And then there's the eye-wateringly steep $235 price tag and lack of everyday appeal, which will likely deter most casual hikers. But if your objectives include long and demanding mountain missions like shoulder-season peak-bagging or alpine scrambles, these pants are the real deal. And we appreciate that Fjallraven offers a curved fit variation with more room at the hips and thighs. 
See the Fjallraven Keb Trousers
Category: Casual
Materials: 98% cotton, 2% elastane
Waist: Elastic/drawcord
What we like: Stylish aesthetic and great fit.
What we don't: Too warm for summer hiking and cotton fabric has a tendency to rip.
It's hard to believe that just a few decades ago, hikers and climbers took to the trail wearing hand-sewn wool knickers and external frame packs. A lot has changed over the years, and one of the most discernible shifts has been the rise in fashionable hiking attire. California-based Vuori is proof of this trend, with a nice selection of stylish yet functional offerings that look good but can still handle the rigors of trail use. Their Ripstop Pant here carries the torch, offering a comfortable construction and flattering shape that's a far cry from the bland and ill-fitting designs of yore.
The Vuori Ripstop has enough functional features to please casual day hikers, including five pockets and a gusseted crotch that gives you great mobility for rough patches of trail. The fit and feel are spot-on too, with high-quality materials and an elastic waistband that secures with a drawstring. That said, there's a reason that cotton is a rarity in the world of outdoor clothing: It retains water, is heavier and less airy-feeling than nylon, and—despite what the Ripstop's name suggests—is far more prone to tearing when snagged. In other words, the Ripstop will get the job done on quick jaunts in dry conditions (and look great in the process), but avid hikers will likely want to upgrade to a more performance-oriented model. For another popular alternative with less cotton in the build (62%), check out prAna's Kanab.
See the Vuori Ripstop Pant

Category: Performance
Materials: 96% nylon, 4% elastane
Waist: N/A
What we like: A great hot-weather option at a low price.
What we don't: Unflattering fit and fabric tends to pill.
Rounding out our lineup is another quality budget option: the Columbia Saturday Trail. Priced at just $60, these pants go head-to-head with the REI Co-op Savanna Trails above. In terms of design, you get straight legs and a mid-rise waist in a light and stretchy build that's great for keeping you cool and comfortable on hot summer hikes. Like much of the competition, the Columbia sports built-in tabs to secure rolled-up legs and mesh-lined pockets for added venting. And if you like the general design, there are plenty of options to choose from in the Saturday Trail collection, from a skort and capris to convertible pants and the standard version here.
The Saturday Trail was a strong contender for our top budget pick, but the Savanna Trails won out for a few key reasons. First, while the Columbia features two hand pockets, two rear pockets, and a zip pocket on the right thigh, none are large enough to securely stash a smartphone. Second, we prefer the REI's more modern cuff bungees for securing the legs, although this will ultimately come down to a matter of personal preference. Both pants are fairly average in terms of fit, although you'll likely want to size up with the Columbia. But for only $60 and often found on sale, the Saturday Trail is an adventure-ready option at a great price.
See the Columbia Saturday Trail
Women's Hiking Pant Comparison Table
| Pant | Price | Materials | Waist | Pockets | Weight |
| --- | --- | --- | --- | --- | --- |
| prAna Halle II | $95 | 95% nylon, 5% spandex | Drawcord | 5 | Unavail. |
| REI Co-op Savanna Trails | $55 | 94% nylon, 6% elastane | Elastic (partial) | 5 | Unavail. |
| MTN Hardwear Dynama/2 | $79 | 94% nylon, 6% elastane | Elastic | 3 | 4.1 oz. |
| Patagonia Pack Out Hike Tights | $129 | 87% polyester, 13% spandex | Elastic | 3 | 10.7 oz. |
| Arc'teryx Gamma LT | $180 | 88% nylon, 12% elastane | Built-in belt | 5 | 10.4 oz. |
| Patagonia Quandary Pants | $89 | 95% nylon, 5% spandex | Drawcord | 5 | 9.3 oz. |
| TNF Aphrodite 2.0 | $69 | 95% nylon, 5% elastane | Elastic/drawcord | 3 | 8 oz. |
| Outdoor Research Ferrosi | $89 | 86% nylon, 14% spandex | Drawcord | 5 | 9 oz. |
| Fjallraven Abisko Tights | $175 | 82% polyamide, 18% elastane | Elastic | 2 | 9 oz. |
| REI Co-op Sahara Convertible | $80 | 96% nylon, 4% spandex | Elastic/drawcord | 6 | Unavail. |
| Arc'teryx Alroy | $119 | 86% nylon, 14% elastane | Elastic | 5 | 7.9 oz. |
| KUHL Freeflex Roll-Up | $99 | 50% polyester, 50% stretch poly | Drawcord | 6 | Unavail. |
| Rab Elevation Pants | $75 | 89% nylon, 11% elastane | Elastic/drawcord | 1 | 9.4 oz. |
| prAna Summit Jogger | $95 | 95% nylon, 5% spandex | Elastic | 4 | Unavail. |
| Arc'teryx Sabria | $125 | 87% nylon, 13% elastane | Elastic/drawcord | 2 | 6.7 oz. |
| Athleta Trekkie North | $89 | 95% nylon, 5% spandex | Elastic/drawcord | 3 | Unavail. |
| Fjallraven Keb Trousers | $235 | 89% polyamide, 11% elastane | Elastic | 4 | 19 oz. |
| Vuori Ripstop Pant | $98 | 98% cotton, 2% elastane | Elastic/drawcord | 5 | Unavail. |
| Columbia Saturday Trail | $60 | 96% nylon, 4% elastane | N/A | 5 | 11.2 oz. |

Women's Hiking Pant Buying Advice

Hiking Pants: Performance vs. Casual
On our list above, we've broken women's hiking pants into two distinct categories: performance and casual. We wanted to represent the full spectrum of pants that we (this article was curated by two female editors) and other women choose to wear on the trail. Pants in our performance category are your standard hiking fare and include technical fabrics, functional and often generous storage, and convertible or roll-up legs to keep you cool on warm days. These are our first choice for serious hiking: They're breathable, generally water-resistant, durable enough to put up a fight against sharp rocks and plants, and offer great coverage and freedom of movement. Some of our favorite performance-oriented options include the Arc'teryx Gamma LT and Patagonia Quandary, and the Fjallraven Trekking Tights also fall into this category due to their technical fabrics and design.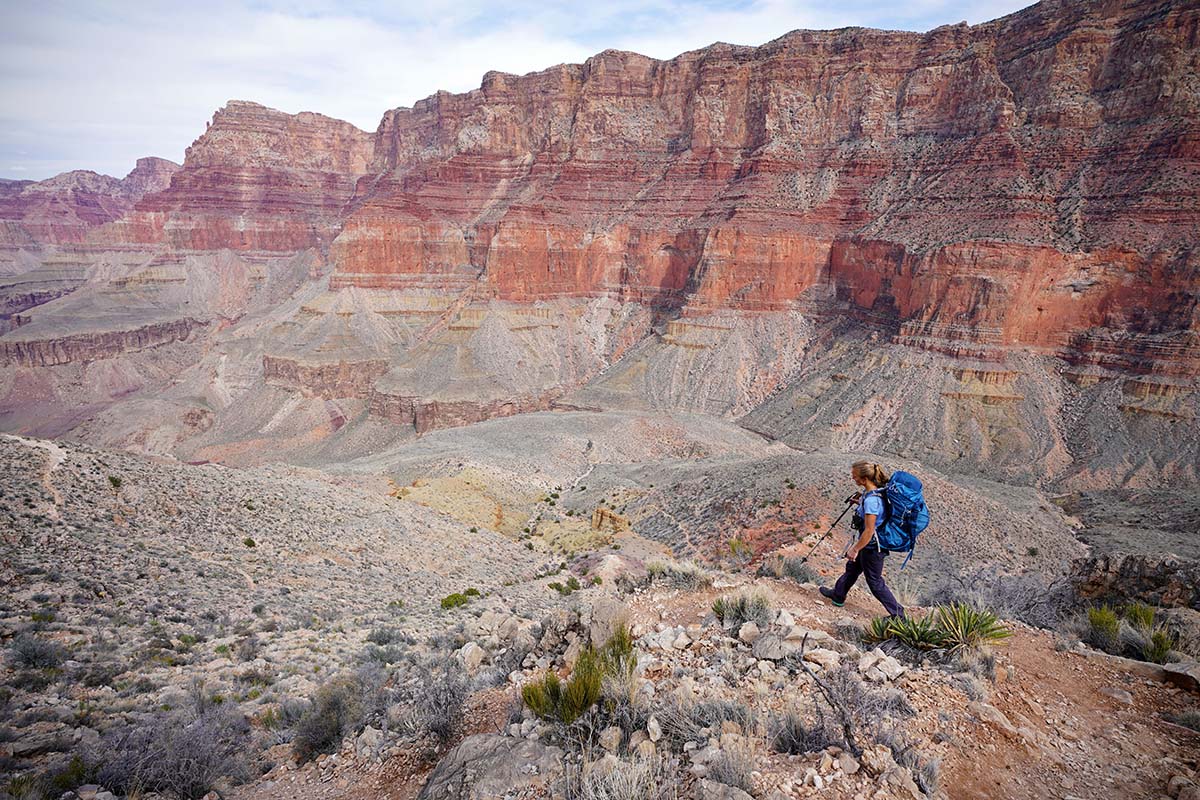 But let's face it: Hiking pants aren't particularly stylish, and finding the right fit can be difficult. For these reasons, many women will opt instead for pants in our casual category, which look and feel great both on and off the trail. Casual pants are designed for non-technical outdoor use, often featuring thinner or less durable fabrics (sometimes even cotton), fewer pockets, and often less coverage (ankle-length designs like the prAna Summit are increasingly popular). Many trail leggings, like the Patagonia Pack Out Tights, fit into this category as well. For casual jaunts on the trail and day hiking in particular, lifestyle pants get the job done, and it's hard to ignore the style component. Some of our favorite picks include the The North Face Aphrodite 2.0, Athleta Trekkie North Jogger, Vuori Ripstop, and aforementioned prAna Summit.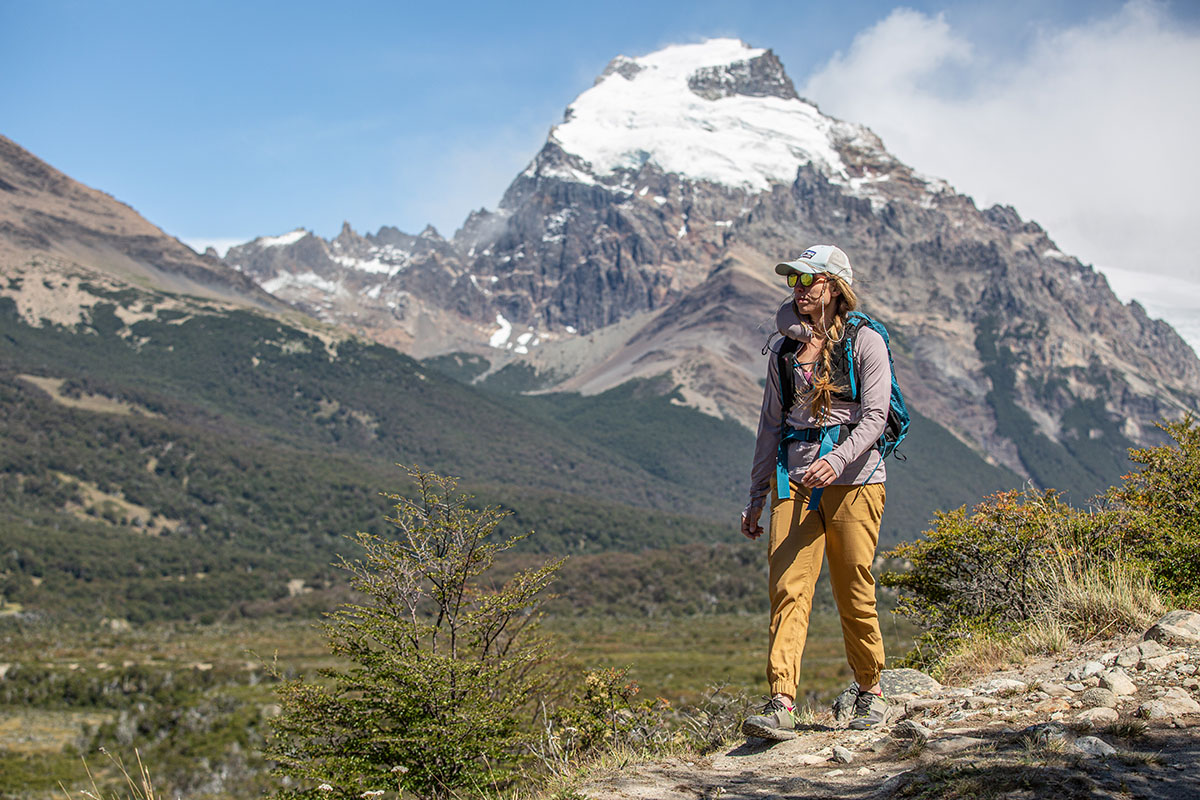 Hiking Pant Materials
Hiking pants are typically made of a nylon blend, and all of the options here have at least a small amount of built-in stretch via elastane (spandex). A higher percentage of elastane will result in a stretchier feel, which can be especially nice for women who tend to size their pants on the tight side. The added give in the material is also a real boon on the trail, and even more so when it comes to setting up a tent and moving around camp. The Outdoor Research Ferrosi is one of the stretchiest hiking pants available (86% nylon and 14% spandex), while the legging options here (like the Patagonia Pack Out Hike Tights) allow great mobility as well.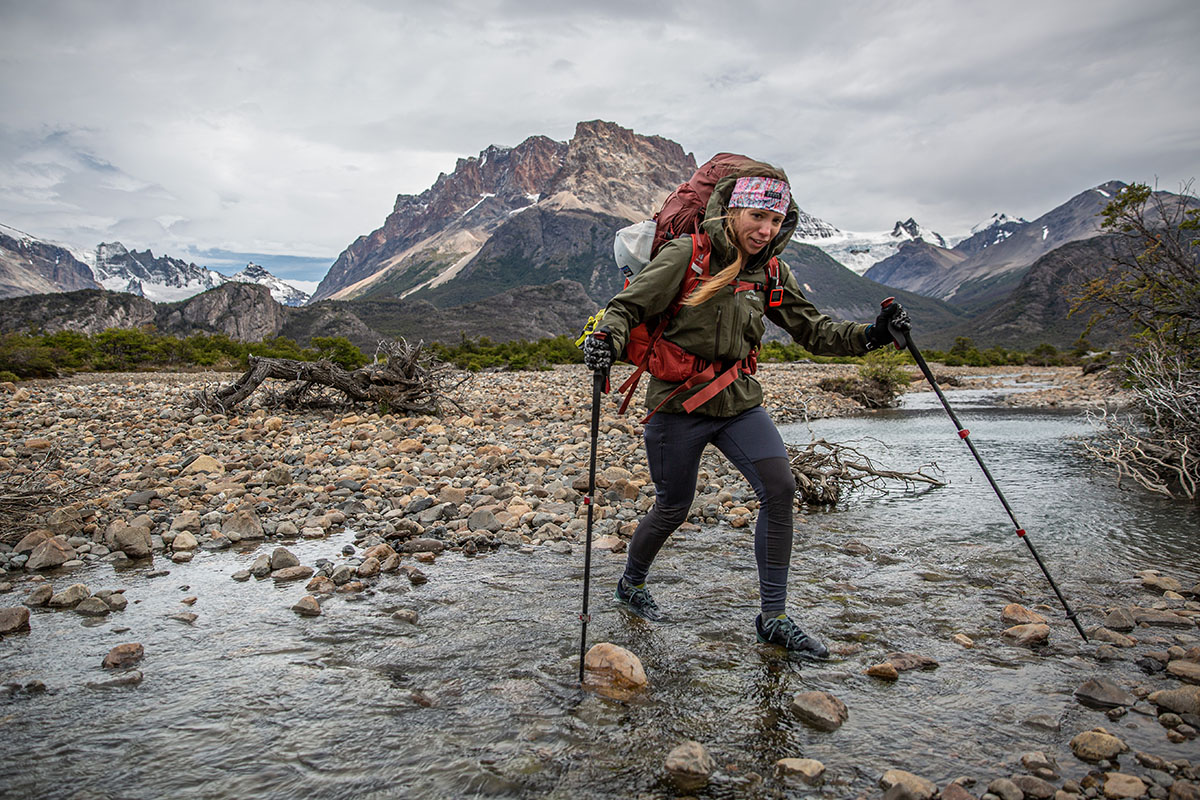 We've also included a small handful of outliers on this list. The Vuori Ripstop is made with 98% cotton, a rarity these days in outdoor clothing. Cotton absorbs water more than nylon or polyester (and thus is not appropriate for colder weather), but the upside is that the Vuori is impressively comfortable and stylish. And then there are softshell pants like the Arc'teryx Gamma LT, which are thicker and more weather-resistant. Softshell pants are ideal for alpine conditions, wet weather, and bushwhacking, but they will feel overkill in the summer heat.
 
Waist Closures: Built-in Belts, Drawcords, and Elastic
Ladies, we get it: Trying to find a pair of hiking pants that fits well is a daunting and often futile task. Regardless of body shape, it seems that there's always an area that's too tight or too loose. Our best advice in finding the ideal fit for you is to start with the waist design, whether it be an integrated belt, drawstring, or fitted elastic waistband. Many pants will often come with belt loops as well, but we prefer a built-in style over the bulkiness of an added belt.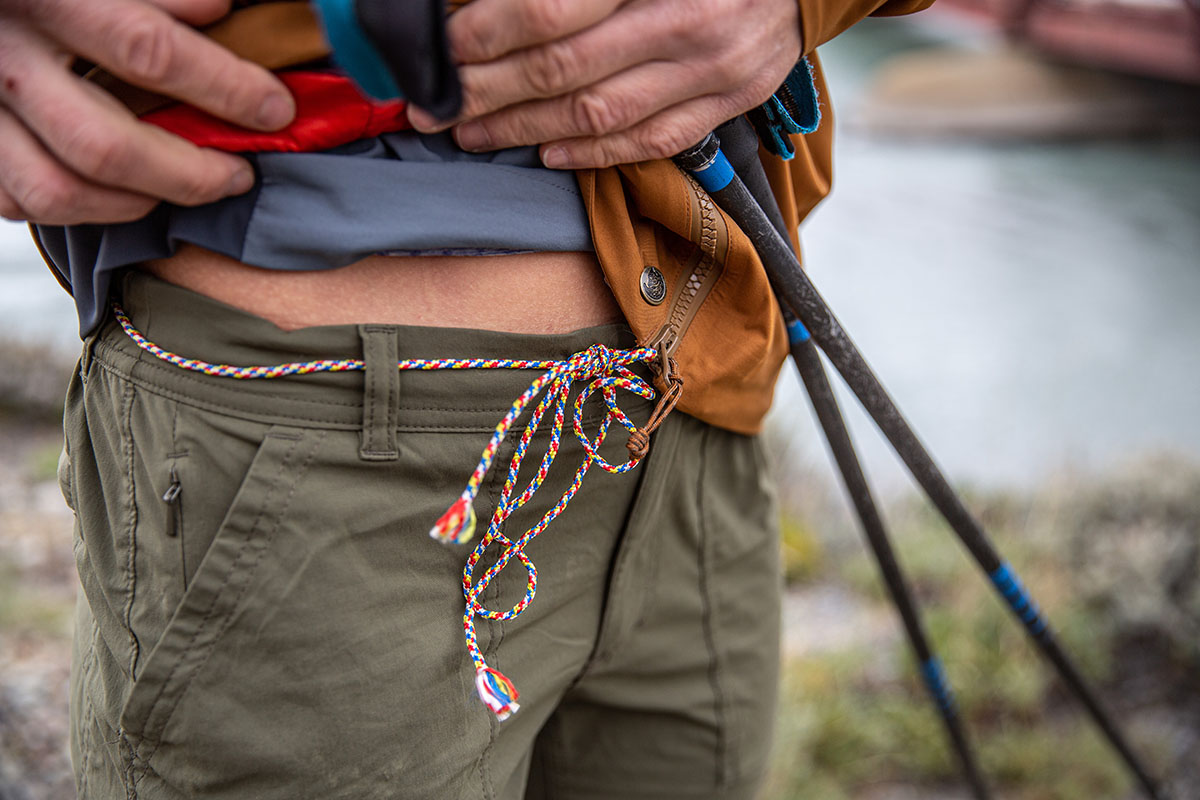 Built-in belts, like that on the Arc'teryx Gamma LT, are made of webbing, feature a low-profile adjuster, and can be found on the inside or the outside of the waistbelt. A drawstring functions similarly but ties shut, thereby adding a bit of extra bulk near your belly button. Finally, an elastic waistband, often found on leggings like the Patagonia Pack Out Hike Tights or pants like the Mountain Hardwear Dynama/2, is the most low-profile solution that, unlike integrated belts or drawstrings, won't get in the way of your backpack's hipbelt. Pants with elastic waistbands generally forgo the standard zippered fly and button closure, but they've recently gained popularity for their comfort and good all-around fit.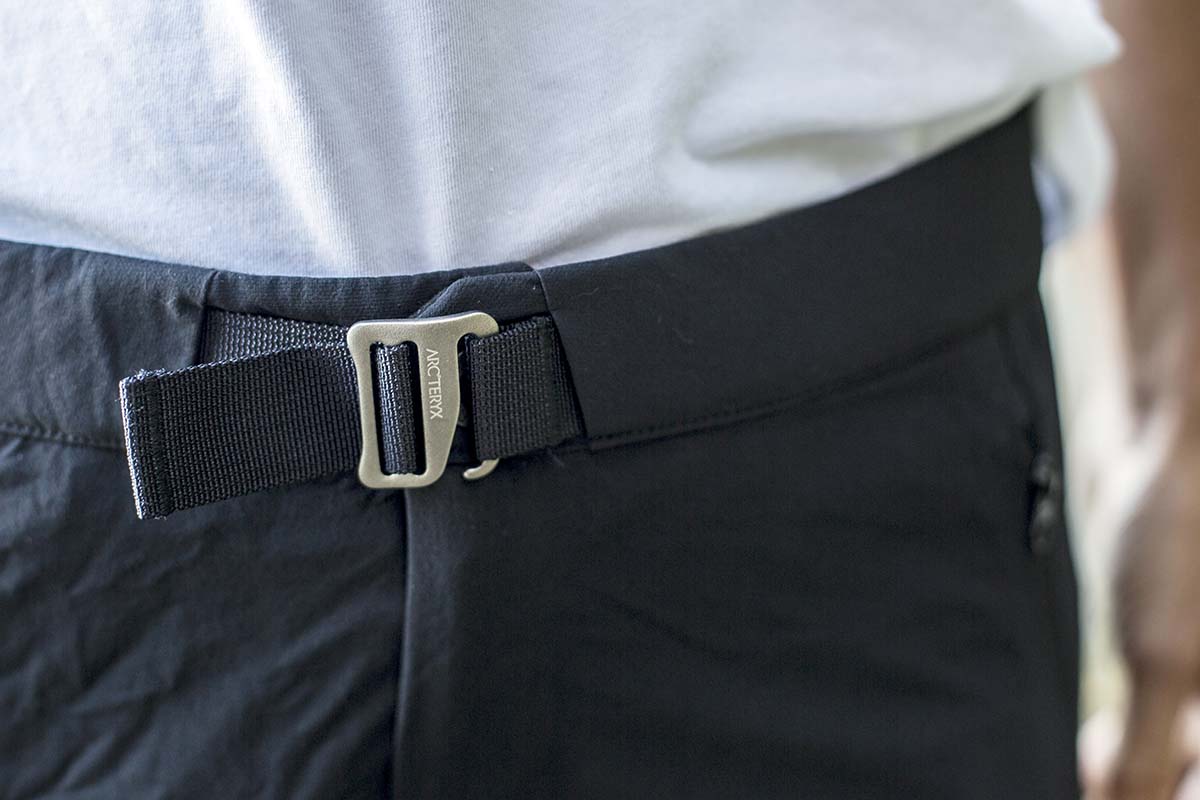 Pockets
All of the hiking pants on this list have at least one pocket, and most sport upwards of four or five. Front and back pockets are very common, as are streamlined side or thigh pockets, and often a few will be equipped with a zipper for extra security. While pockets aren't for everyone—we don't like to overload our hiking pants with excess bulk—organization can be a big help on the trail, especially when it comes to items like a phone or Chapstick. In fact, one of our biggest gripes when it comes to women's outdoor clothing is the lack of functional storage—while men's pants might have deep front or cargo pockets, women's pants generally feature shallow openings that can't even fit a modern smartphone. We call out storage when relevant in the write-ups above, but two of our favorite designs for stowing the essentials are the Patagonia Pack Out Hike Tights and REI Co-op Sahara.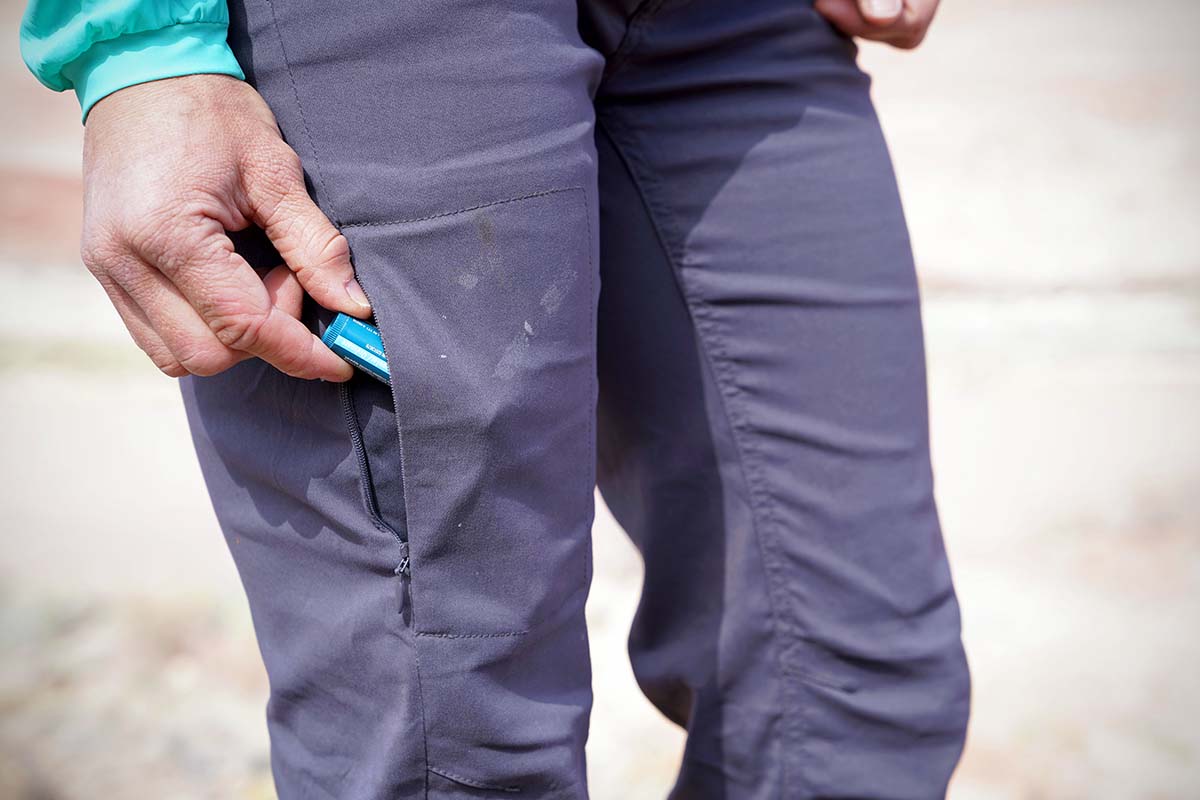 Hiking Pant Weight
Unlike other types of outdoor gear, for most hikers, the exact weight of their pants isn't a top consideration (after all, you're not usually carrying them on your back). Most pants on our list above weigh between 9 to 11 ounces and have never felt overly bulky or cumbersome on the trail. If you plan to carry a pair of pants on a backpacking trip or want a particularly lightweight feel that will keep you moving quickly, some of our favorites include the Mountain Hardwear Dynama/2 (4.1 oz.) and the Arc'teryx Sabria (6.7 oz.). On the other end of the spectrum, for high-alpine adventures when you need added weather protection and durability, taking on extra weight for a pant like the 1-pound-3-ounce Fjallraven Keb Trousers may be worth it. To help highlight differences in weight, we've included the numbers in our comparison table above.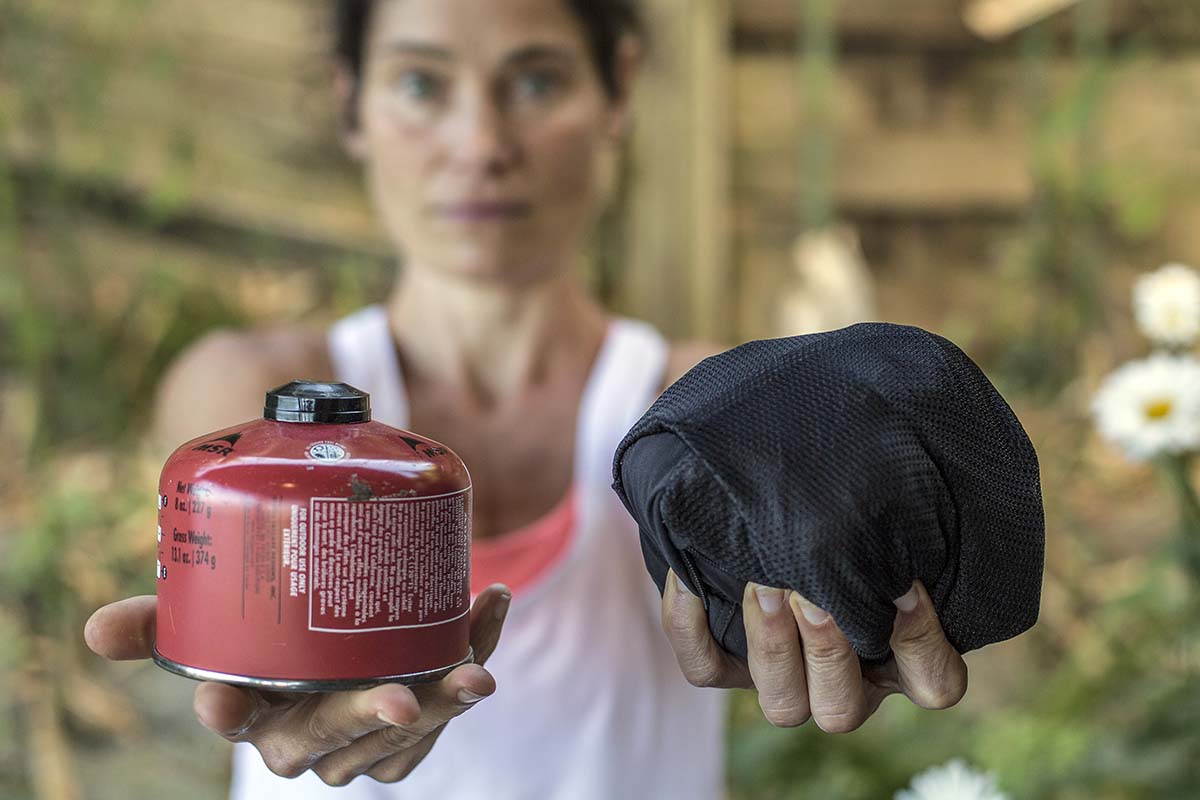 Articulated Knees and Gussets
Two helpful design features to look out for in your hiking pant search are articulated knees and gussets built into the crotch. Articulated knees mimic a person's walking motion by creating a natural bend at the knee. In contrast to a traditional, straight-legged pant, the improved range of motion is immediately noticeable. A gusset is a patch of diamond-shaped fabric that runs along the inner thigh of the pants, replacing a standard seam. As with an articulated knee design, the extra fabric improves range of motion and general fit and comfort. There generally are extra costs associated with the greater complexity in construction, so day hikers sticking to well-maintained trails with flatter grades or those on a budget can probably go without them. But in our opinion, there are real benefits to these features, and they do add a major boost in comfort on the trail.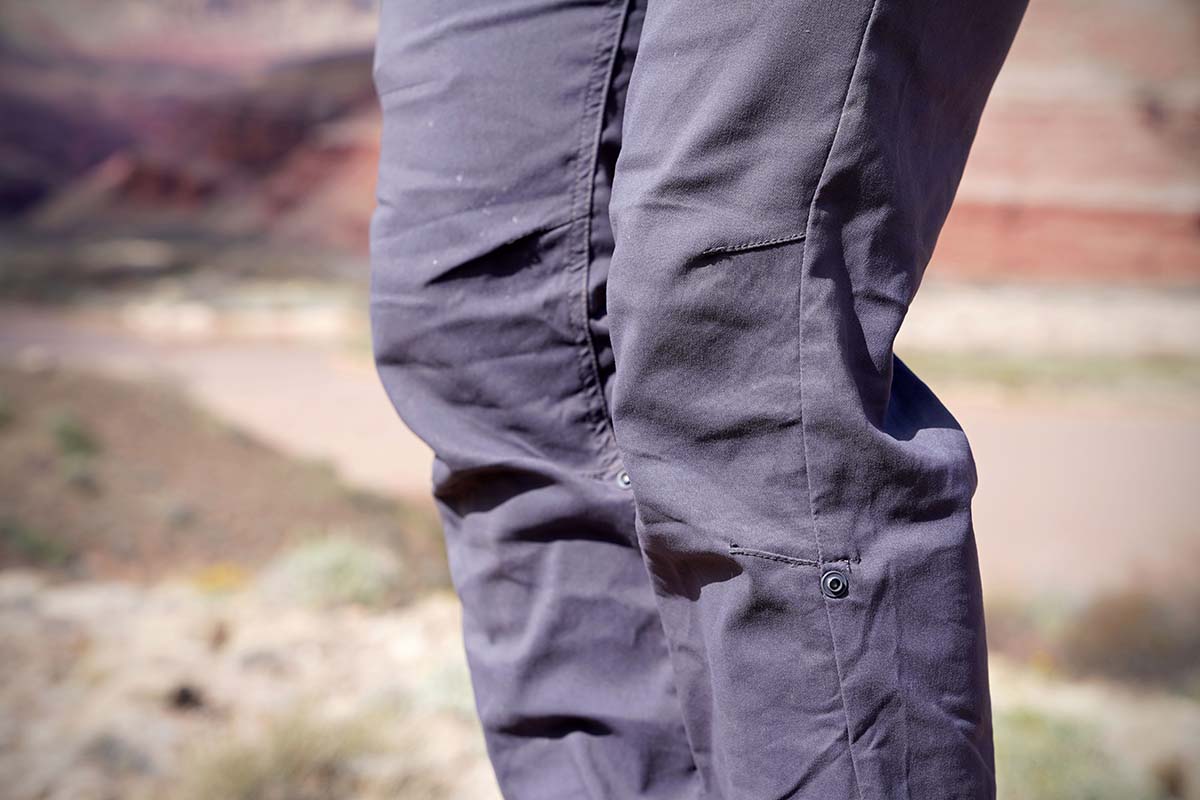 Water Resistance
The higher a fabric's water resistance, the lower its breathability, so no one wants their hiking pant to be truly waterproof. But depending on the model, hiking pants can actually be pretty decent performers in the wet. When it comes to water resistance, many performance options have a durable water repellent (DWR) coating, which makes the droplets bead up and roll off. And, as long as you avoid a more casual cotton construction (like that of the Vuori Ripstop), the nylon blends aren't very prone to soaking up moisture. If and when they eventually soak through, drying time isn't too shabby either, which is reason enough for us to recommend sticking to hiking pants on all but the most extreme rainy days.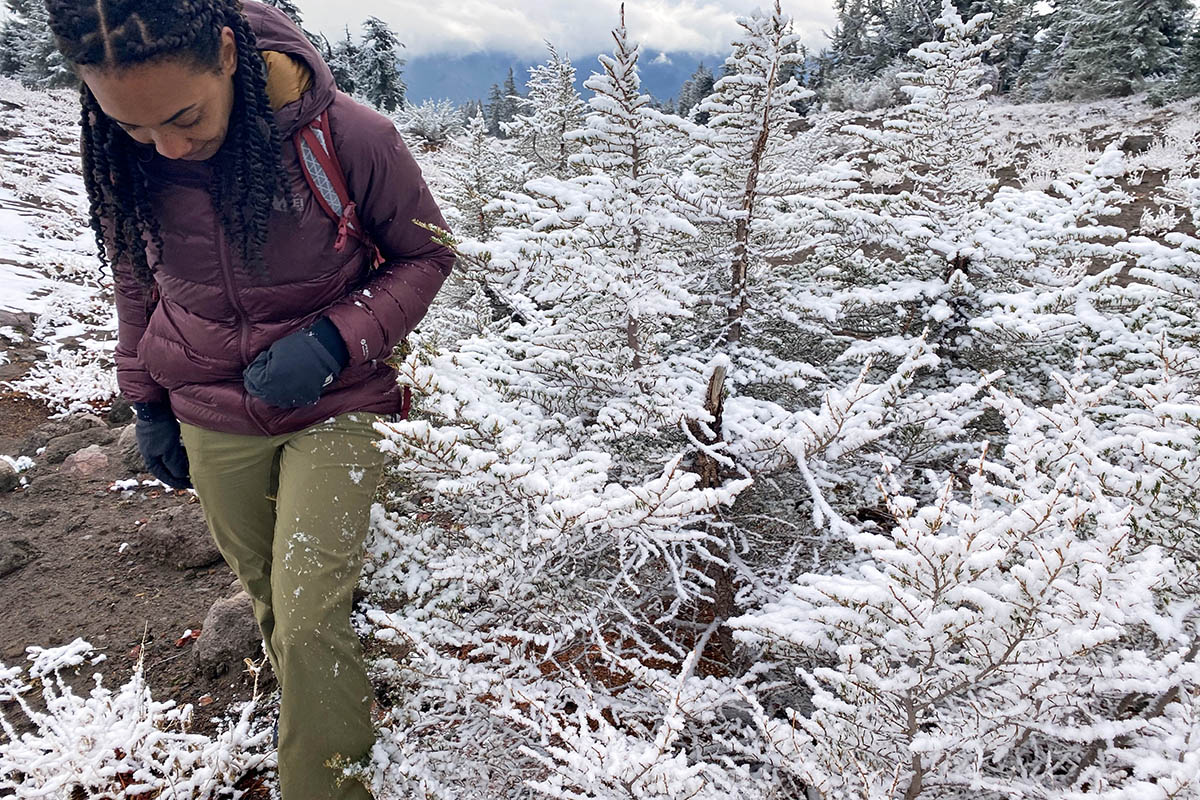 Thickness and Durability
How thick the material is will play a big role in a hiking pant's best uses. You'll see anything from tropical and summer-ready thin pants all the way to medium-thick softshell pants, so it's important to know what you're looking at. From our list, pants like the Mountain Hardwear Dynama/2 and Arc'teryx Alroy excel in hot temperatures with their thin, breathable fabrics. Many of the core models above are designed for three-season use, like the Outdoor Research Ferrosi and prAna Halle II. And thicker pants like the Arc'teryx Gamma LT are great for shoulder seasons and light winter use. Keep in mind, throwing on a pair of baselayers underneath can make many three-season pants very agreeable in the wintertime as well.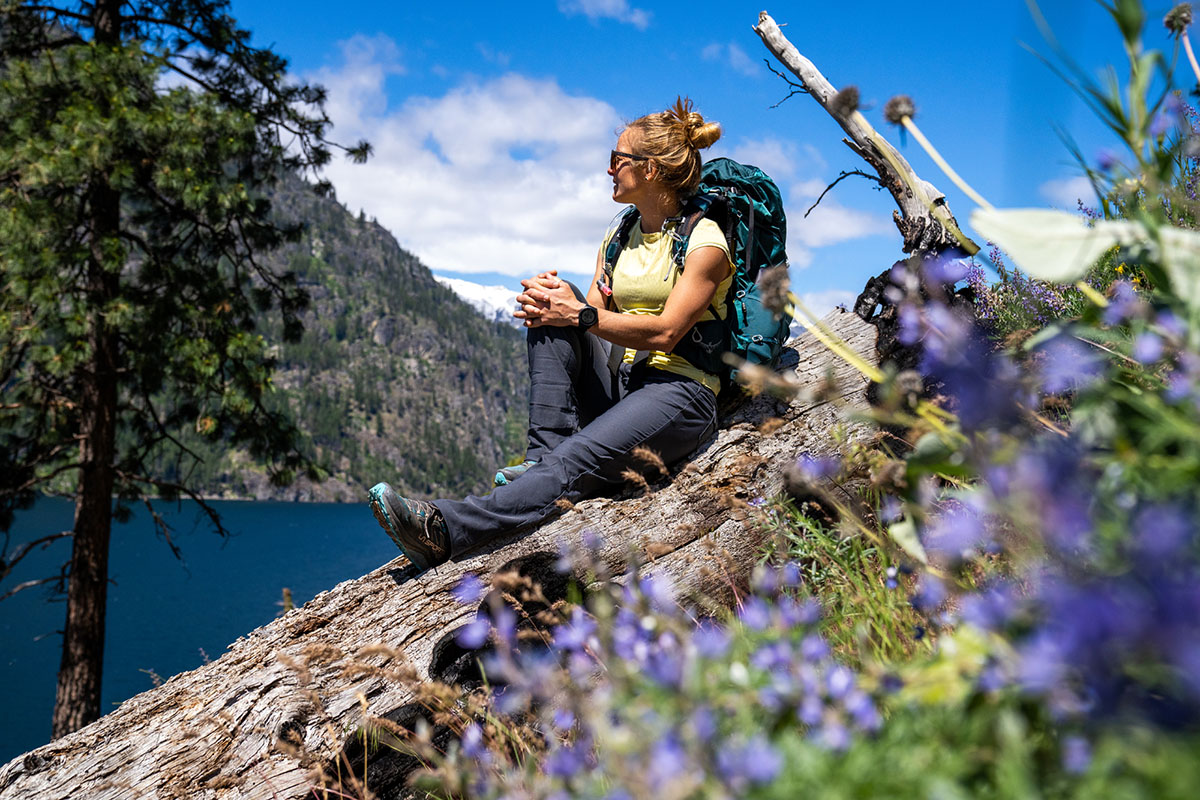 Beyond temperature considerations, thickness often correlates with durability and tear resistance. Most softshell-style pants are tough enough that we had few concerns brushing up against and squeezing between rocks and brush on the trail. And both the Patagonia Quandary and OR Ferrosi have surprising levels of durability despite their lighter feel. Finally, truly summer-specific pants like the TNF Aphrodite 2.0 and Mountain Hardwear Dynama/2 are more tear-prone and should be restricted to more casual hiking and backpacking.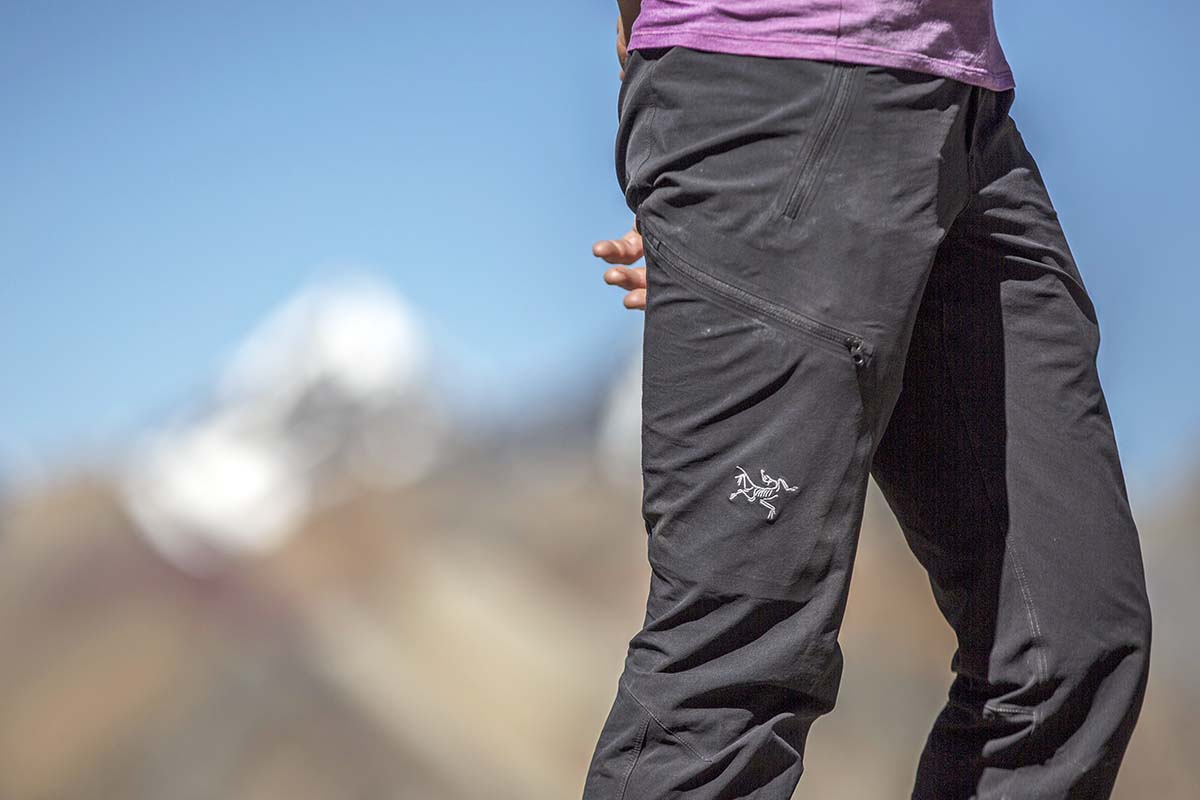 Sizing and Fit
We've put up with our fair share of baggy, ill-fitting hiking pants over the years, but the good news is that the market has improved significantly of late. Outdoor clothing brands like prAna, The North Face, and Patagonia all have the fit concept down quite well, and REI and Columbia have recently redesigned a number of their offerings to bring them in line with the competition. To help you get the closest fit, many brands allow you to customize sizing both in terms of waist and inseam—for example, our top-rated prAna Halle II comes in 10 waist sizes (00 to 16) and three different inseam options (short, regular, and tall), in addition to three plus sizes. We still recommend trying before you buy—and we do call out sizing and fit discrepancies in the write-ups above when possible—but all in all, we're happy to see progress being made.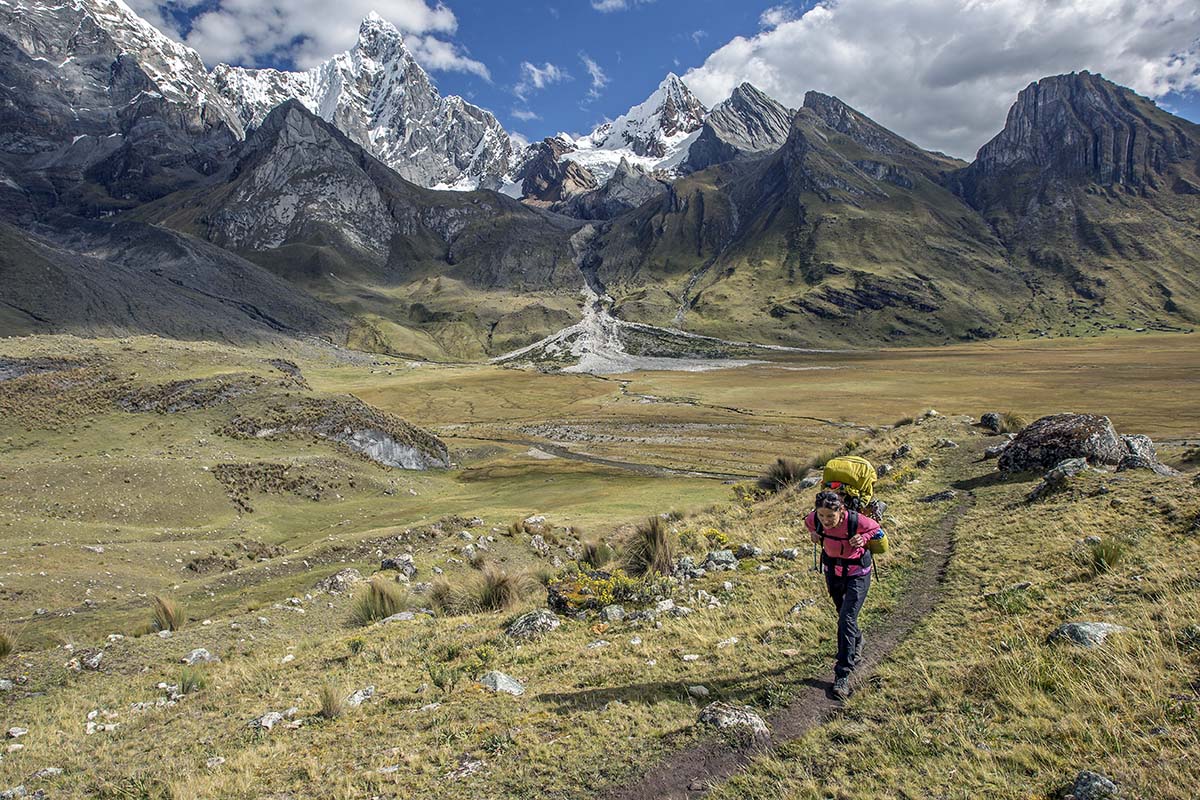 Convertible and Roll-Up Pants
When you're hiking in the heat, it can be nice to have the option of converting your pants to shorts (via zip-off legs) or securely rolling them up into capris. On our list above, we feature one style of convertible pant, the REI Co-op Sahara, and a few models that are offered in convertible variations (the Outdoor Research Ferrosi, Patagonia Quandary, and Columbia Saturday Trail, for example). While they're a bit of an outdated style, there's no denying the added functionality and versatility. However, convertible pants are not for everyone: the extra zippers can be a pain to use, they add weight and bulk, and, due to the additional pinch points the zippers create, the fit is often baggier.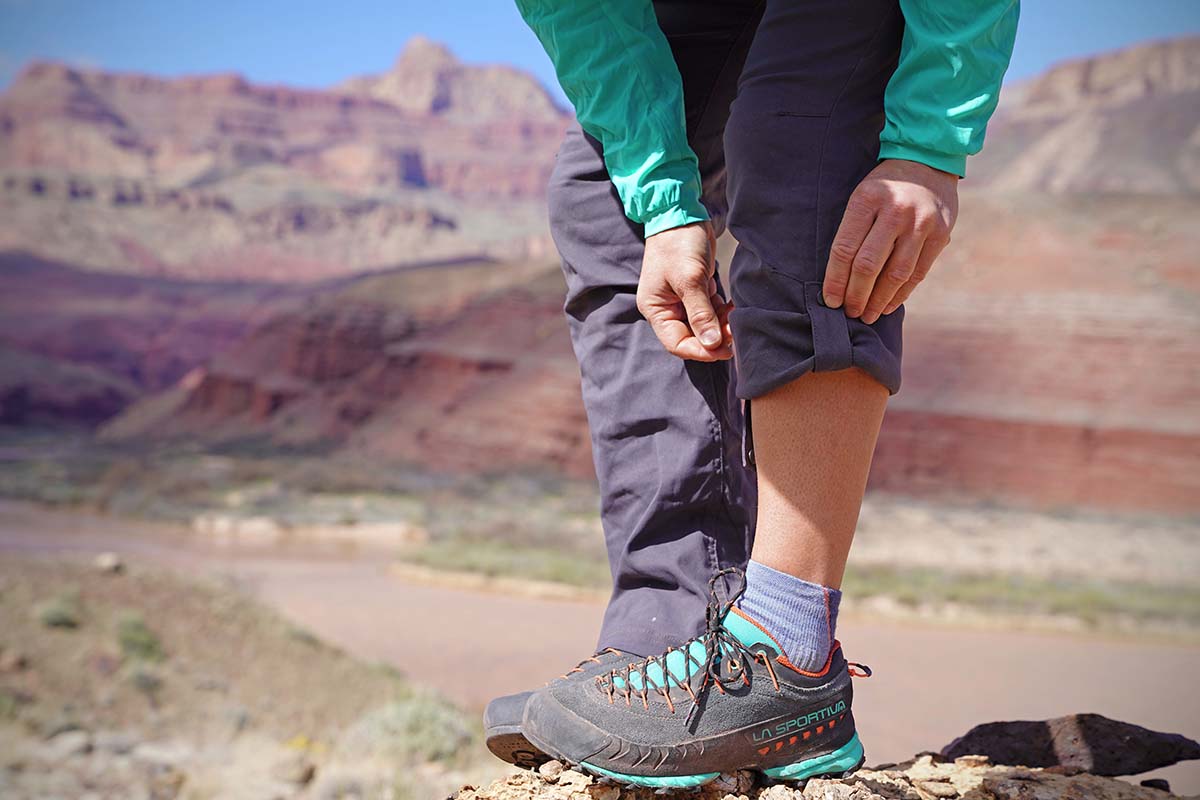 As a result, roll-up pants are becoming more and more popular, especially for women. The big benefit here is that you don't have to fuss with zippers or risk losing your pant legs—all that's required is a low-profile button and some tabs to secure the cinched hem, and you get many of the ventilating benefits of a zip-off design. Alternatively, some women's pants incorporate drawstring cinches at the ankle, including the Outdoor Research Ferrosi and The North Face Aphrodite 2.0, so you can keep the hem off your hiking shoe or even pull the pant leg up around your calf.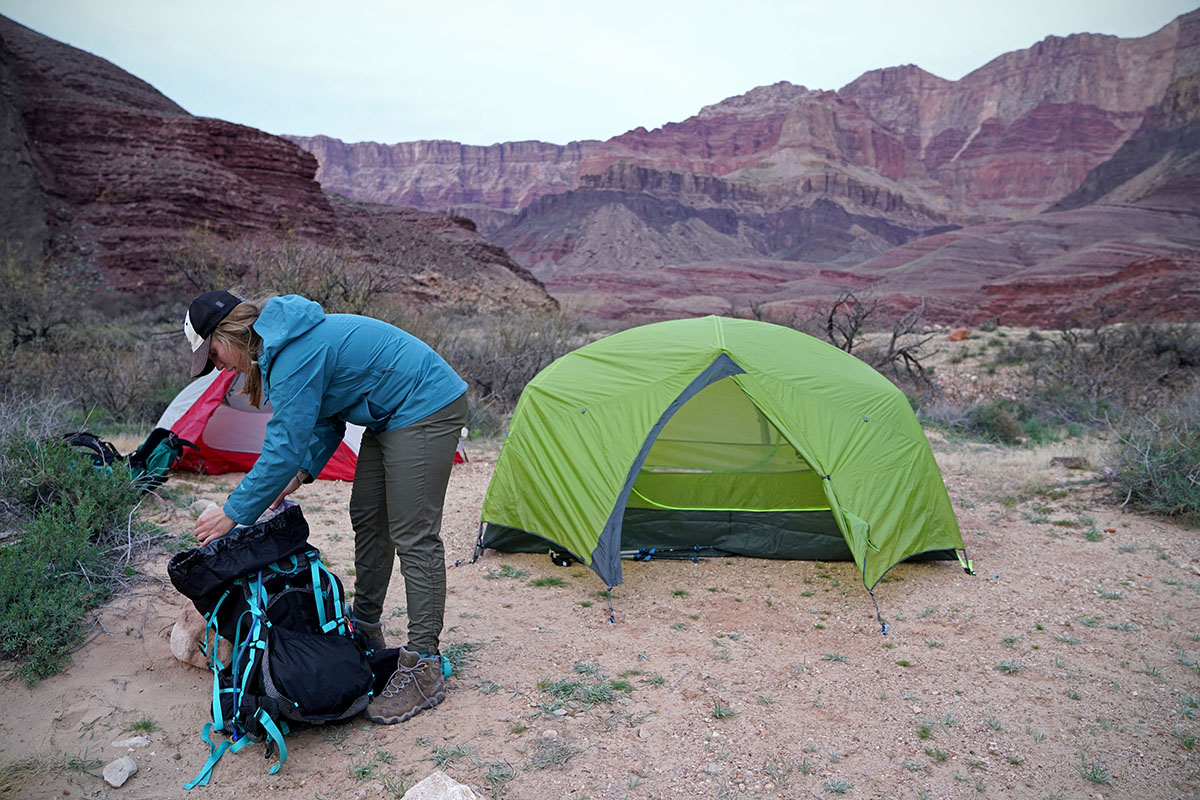 Hiking Shorts and Capris
If you're heading out on an overnight backpacking trip or the weather is iffy, pants are the obvious choice. But hikers that hit the trail in the warm summer months are left with a difficult decision: pants, shorts, or something in between? Choosing full-length pants gives you better protection from the sun and helps keep dirt and rocks from getting into your shoes. Further, they're the obvious pick for technical hikes or summit bids to reduce the number of scratches or cuts when brushing against rocks or branches (and the good news is that many now convert into capris with integrated tabs). That said, we love shorts and capris for day hikes on well-maintained trails. Both styles are cheaper (typically around $10 to $20 less than a comparable pant) and offer better freedom of movement and ventilation. And convertible pants are the obvious middle ground, although they come with a fair number of downsides, which we cover above.
The good news for those that want to pick up a pair of shorts or capris is that many of our favorite pants are offered in these styles. In general, these versions have a similar fit, fabric blend, and pocket layout as their full-length counterparts. We love Patagonia's Quandary shorts, which come in two different inseam options (5" and 7") and have deep front pockets that even fit a large phone. Other favorites include the Mountain Hardwear Dynama Bermuda Short and REI's Sahara Shorts (for a more detailed breakdown, see our article on the best women's hiking shorts). And if you want a superlight and breathable option, a trail running-specific model can do the trick (we've worn a range of styles from Salomon, Brooks, and Patagonia). The biggest downside with running shorts is the lack of pockets, and you do give up some durability with their thin polyester constructions.
Back to Our Top Women's Hiking Pant Picks  Back to Our Women's Hiking Pant Comparison Table
Read More From Switchback Travel